Details: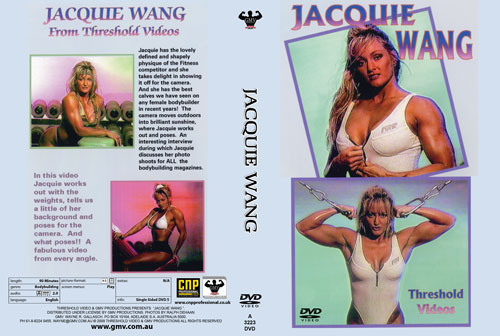 Jacquie Wang - Workout, Pumping & Posing

Jacquie Wang has the lovely defined and shapely physique of the Fitness competitor and she takes delight in showing it off for the camera. And she has the best calves we have seen on any female bodybuilder in recent years!

The camera moves outdoors into brilliant sunshine, where Jacquie works out and poses. An interesting interview during which Jacquie discusses her photo shoots for ALL the bodybuilding magazines. In this DVD Jacquie works out with the weights, tells us a little of her background and poses for the camera. And what poses!! A fabulous DVD from every angle.

Running Time: 95 mins

* Available in NTSC DVD Only (Region Free)
* THIS DVD WILL PLAY ON ANY DUAL SYSTEM NTSC / PAL DVD PLAYER AND TV. Or any PC DVD.