Details: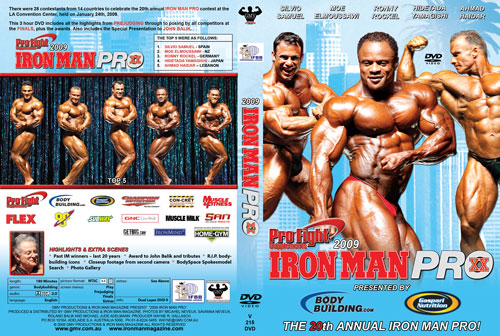 2009 Iron Man Pro
THE 20TH ANNUAL IRON MAN PRO! HISTORIC EVENT.
This annual Californian Pro event was held, along with the LA FIT EXPO, in the Los Angeles Convention Center on January 24th.
The show opened with Lonnie Teper's tribute to the winners of the Iron Man contests over the past 19 years as a prelude to this the 20th year of the event. The past winners who were present were then presented on stage such as Shawn Ray, Chris Cormier, Flex Wheeler, Jay Cutler, Dexter Jackson and Phil Heath. This was a special moment for a group photograph with contest promoter John Balik.
There were 28 competitors from 14 countries making this an extremely even lineup. The top five were as follows:
1. Silvio Samuel - Spain
2. Moe Elmoussawi - NZ
3. Ronny Rockel - Germany
4. Hidetada Yamagishi - Japan
5. Ahmad Haidar - Lebanon
All five are eligible to compete in the 2009 Mr. Olympia contest.
Not surprisingly the lighting by Mike Neveux and his crew was outstanding. It is always the best contest stage lighting I see at any event each year.
These top 5 champions were all in superb condition, hard and shredded.
This 3 hour dual layer DVD includes all the highlights from Prejudging through to posing by all competitors at the Finals, plus the awards. Also includes the Special Presentation to John Balik.
Contents:
Prejudging 68 mins
Finals 77 mins

Highlights & Extra Scenes:
Past IM winners – from the last 20 years
Award to John Balik and special tributes from Arnold & Cory Everson
R.I.P. bodybuilding icons
Closeup footage from second camera
BodySpace Spokesmodel Search
Photo Gallery
Running time of Extra scenes: 35 mins




Silvio Samuel - 2009 Iron Man Pro Winner
Here are the complete Results:
2009 Iron Man Pro:
January 24th, 2009, Los Angeles Convention Center, California.
1. Silvio Samuel SPAIN
2. Moe Elmoussawi NEW ZEALAND
3. Ronny Rockel GERMANY
4. Hidetada Yamagishi JAPAN
5. Ahmad Haidar LEBANON
6. Eddie Abbew UK
7. Mohamad Bannout LEBANON
8. Mark Dugdale USA
9. Marcus Haley USA
10. Johnnie Jackson USA
11. Troy Alves USA
12. Oliver Adzievski SWEDEN
13. Martin Kjellstrom SWEDEN
14. Thomas Benagli ITALY
15. Con Demetriou AUSTRALIA
16. Rusty Jeffers USA
16. Tamer ElShahat EGYPT
16. Don Long USA
16. Fedel Clarke USA
16. Cesar Mendible VENEZUELA
16. Adorthus Cherry USA
16. Oleg Emelyanov RUSSIA
16. Aiman Faour LEBANON
16. DeShaun Grimez USA
16. Marc LaVoie CANADA
16. Daron Lytle USA
16. Evgeny Mishin RUSSIA
16. Omar Deckard USA
Special Surprise Presentation:
To John Balik for promoting the Iron Man Pro event for the last 20 years, with the help of his partner Mike Neveux and all of his loyal staff and helpers. John gave an outstanding speech thanking all who had contributed to this wonderful contest over the years.
Photography courtesy Iron Man Magazine: Michael Neveux, Savanna Neveux, Roland Balik and Michael Jude Adelmann. Title sponsor was ProFight Supplements with Presenting Sponsors Bodybuilding.com and Gaspari Nutrition.



Running Time: 180 mins

* Available in NTSC DVD Only (Region Free)
* THIS DVD WILL PLAY ON ANY DUAL SYSTEM NTSC / PAL DVD PLAYER AND TV. Or any PC DVD.