Details: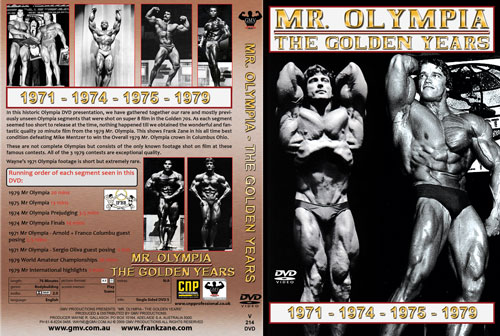 Mr. Olympia – The Golden Years: 1971, 1974, 1975, 1979

In this historic Olympia DVD presentation, we have gathered together our rare and mostly previously unseen Olympia segments that were shot on super 8 film in the Golden 70s. As each segment seemed too short to release at the time, nothing happened till we obtained the wonderful and fantastic quality 20 minute film from the 1979 Mr. Olympia. This shows Frank Zane in his all time best condition defeating Mike Mentzer to win the Overall 1979 Mr. Olympia crown in Columbus Ohio.
These are not complete Olympias but consists of the only known footage shot on film at these famous contests. All of the 3 1979 contests are exceptional quality.
1971 Olympia footage from Paris is short but extremely rare and does include the 2 guest posers Sergio and Franco.
In 1974 see the titanc battle between old rivals Arnold and Lou Ferrigno with Arnold coming out on top.

In 1975 in South Africa it was Arnold once again over Serge Nubret with Franco taking out the lighter class.Arnold retired after this contest.

1979 it was back in Columbus where Frank Zane took the overall title from Heavyweight Class winner Mike Mentzer. Cameraman Joel Fletcher concentrated in particular on Frank Zane in this contest. It is an absolute feast of posing for Zane fans and an ideal way to study the master posing style of Fank Zane - the master poser.

Some of this old film footage has had the colour deteriorate with time. However the bodies we show portray priceless images of our past great champions of the sport. This is a Legends of the Olympias of the 70s DVD. Shot on super 8 film and digitally transferred to DVD with copyright free music added.

Running order of each segment seen in this DVD:
1979 Mr Olympia 20 mins
1975 Mr Olympia 13 mins
1974 Mr Olympia Prejudging 3.5 mins
1974 Mr Olympia Finals 14 mins
1971 Mr Olympia - Arnold + Franco Columbu guest posing 2.5 mins
1971 Mr Olympia - Sergio Oliva guest posing 1 min
1979 World Amateur Championships 20 mins
1979 Mr International highlights 2 mins
All 1979 footage shot by Joel Fletcher and licensed to GMV Productions. All other footage courtesy Wayne Gallasch.
Special thanks to Frank Zane.
CONTEST RESULTS:
1971 Mr. Olympia
Arnold Schwarzenegger was the only competitor.
1974 Mr. Olympia
Overall Winner: Arnold Schwarzenegger
Heavyweight Class
1 Arnold Schwarzenegger
2 Lou Ferrigno
3 Serge Nubret
Lightweight Class
1 Franco Columbu
2 Frank Zane
1975 Mr. Olympia
Overall Winner: Arnold Schwarzenegger
Heavyweight Class
1 Arnold Schwarzenegger
2 Serge Nubret
3 Lou Ferrigno
Lightweight Class

1 Franco Columbu
2 Ed Corney
3 Al Beckles
4 Frank Zane
1979 Mr. Olympia
Overall Winner: Frank Zane
Heavyweight Class
1 Mike Mentzer
2 Dennis Tinerino
3 Roger Walker
4 Roy Callendar
5 Bob Birdsong
Lightweight Class
1 Frank Zane
2 Boyer Coe
3 Robby Robinson
4 Chris Dickerson
5 Danny Padilla
6 Carlos Rodriguez
7 Albert Beckles
8 Tom Platz
9 Ed Corney
10 Steve Davis
1979 IFBB WORLD BODYBUILDING CHAMPIONSHIPS
70KG Class
1. Renato Bertagna, Italy
2. Heinz Sallmayer, Austria
3. Moh Teck Hin, Singapore
80KG Class
1. Roy Duvall, England
2. Richard Baldwin, USA
3. Anton Holic, Czechoslovakia
90KG Class
1. Samir Bannout, Lebanon
2. Ron Teufel, USA
3. Johnny Fuller, England
Over 90KG Class
1. Jusup Wilkosz, Germany
2. Ray Mentzer, USA
3. Chen Wint, Jamaica

Best National Team: USA
Special Guests:

Dave Draper & Reg Park
Scenes from 1979 MR. INTERNATIONAL Featuring:
Greg DeFerro, USA
Rogelio Pio Montenegro, Argentina
Andreas Cahling, Sweden
Len Archambault, USA
Pat Neve, USA

Running Time: 80 mins

* Available in NTSC DVD Only (Region Free)
* THIS DVD WILL PLAY ON ANY DUAL SYSTEM NTSC / PAL DVD PLAYER AND TV. Or any PC DVD.