Details: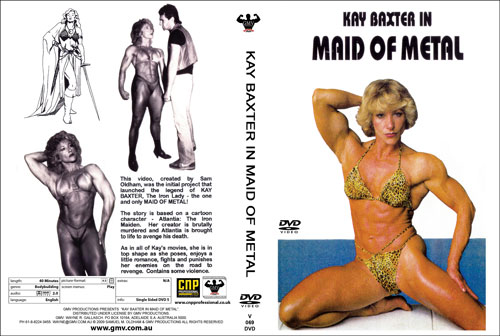 Kay Baxter in Maid Of Metal DVD

This video launched the career of the Fem Muscle Legend Iron Lady - Kay Baxter.

The story is based on a cartoon character - Atlantia: The Iron Maiden. Her creator is taken suddenly by dark forces and Atlantia is brought to life to avenge his early demise.

As in all of Kay's movies she is in top shape as she poses, enjoys a little romance, fights and punishes her enemies on the road to revenge.

Kay Baxter is the original Hardcore Muscle Maiden in which all others have followed. This video is reproduced in super high quality to DVD and is a must for all Fem Muscle lovers.

Running Time: 50 mins - Not as long as most, but this movie is packed full of marvellous hardcore muscle moments.

* Available in NTSC DVD Only (Region Free)
* THIS DVD WILL PLAY ON ANY DUAL SYSTEM NTSC / PAL DVD PLAYER AND TV. Or any PC DVD.