Details: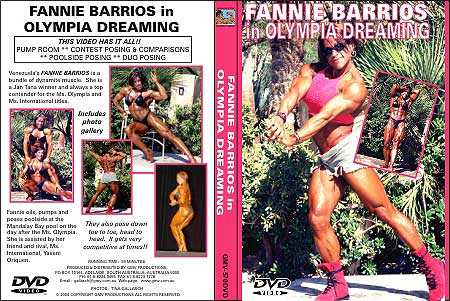 FANNIE BARRIOS in OLYMPIA DREAMING
PUMP ROOM ** CONTEST POSING & COMPARISONS ** POOLSIDE POSING ** DUO POSING THIS VIDEO HAS IT ALL!!
Venezuela's FANNIE BARRIOS is a bundle of dynamite muscle. She is a Jan Tana winner and always a top contender for the Ms. Olympia and Ms. International titles.
Fannie oils, pumps and poses poolside at the Mandalay Bay pool on the day after the Ms. Olympia. She is assisted by her friend and rival, Ms. International, Yaxeni Oriquen. They also pose down toe to toe, head to head. It gets very competitive at times!!



Running Time: 65 mins

* Available in NTSC DVD Only (Region Free)
* THIS DVD WILL PLAY ON ANY DUAL SYSTEM NTSC / PAL DVD PLAYER AND TV. Or any PC DVD.