Details: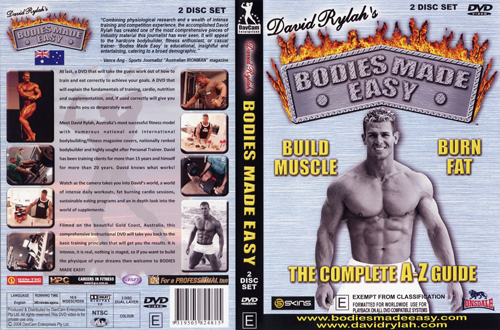 David Rylah: "Bodies Made Easy" DVD The Complete A - Z Guide -
2 Disc Set Widescreen Format
Champion Australian bodybuilder and top male fitness model David Rylah has just released a new DVD entitled 'Bodies Made Easy'. This long awaited DVD is a 2 disc set running a massive 4 hours. The DVD was authored by Ollie Parke at the GMV Studios and the clip was a joint collaboration between David, Campbell Lennox and Ollie.
David's "Bodies Made Easy" is a hard core training DVD that is the complete A-Z guide on how to build muscle and burn fat. Nothing is staged for the cameras. It includes everything from body posture, hand positions, range of reps, supplement & nutrition, cardio & fat loss, rest between sets, instinctive training etc. Here is the answer to all your training questions. David has left no stone unturned!
If you have ever wondered how some people are able to maintain a healthy and fit lifestyle and stay in great shape while still being able to enjoy life to the fullest, then stop looking for excuses, David will show you how!!
Bodies Made Easy is just that…..an easy way for you to understand and embrace the basic philosophy behind muscle building, fat loss, being healthy and most of all enjoying doing it. You will be amazed just how good you can look and feel following David's training and nutrition principles.
You will be taken through a full weeks training, no fake sweat, no fake weights all real workouts the way they should be done. This is all filmed 4 weeks out from the IFBB Queensland and Australian bodybuilding championships and a major photo shoot which resulted in a magazine cover with an international bodybuilding/fitness magazine.
No stone is left unturned, everything from body posture, hand positions, rep range, supplements, nutrition, cardio, fat loss, repetition pace, how long to rest between sets, instinctive training etc anything you ever had a question about is answered in this dvd.
For less than the cost of a personal training session you can own this dvd and be on track to building the physique you've always wanted to. We sincerely hope you enjoy the Bodies Made Easy ride and wish you every success!!!
So you have invested in a gym membership, what now? How do you make the changes you so desperately want to make? Are you confused by all of the conflicting diet and training information? How do you build muscle and burn fat?
At last, a DVD that will take the guess work out of how to train and eat correctly to achieve your goals. A DVD that will explain the fundamentals of nutrition and supplementation, and, if used correctly will give you the results you so desperately want.
You will meet David Rylah, Australia's most successful fitness model, nationally ranked body builder and highly sort after Personal Trainer. David has been training clients for more than 15 years and training himself more than 20 years, David knows what works! Watch as the camera takes you into David's world, a world of intense daily workouts, fat burning cardio sessions, sustainable eating programs and an in depth look into the world of supplements.
This instructional DVD will take you back to the basic training principles that will get you the results. It is intense, it is real, nothing is staged, so if you want to build the physique of your dreams then welcome to BODIES MADE EASY!



Running Time: 240 mins

* Available in NTSC DVD Only (Region Free)
* THIS DVD WILL PLAY ON ANY DUAL SYSTEM NTSC / PAL DVD PLAYER AND TV. Or any PC DVD.