Details: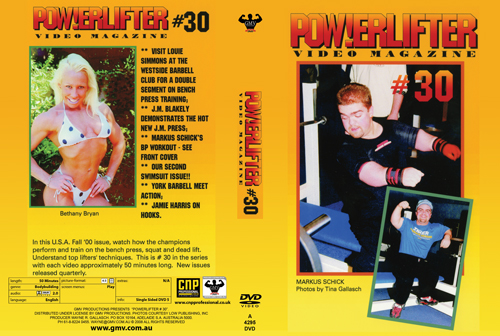 Powerlifter Video Magazine Issue # 30
CONTENTS:

Visit Louie Simmons at the Westside Barbell Club for a double segment on bench press training.

J.M. Blakely demonstrates the hot new J.M. Press. Find out just what this means!

Markus Schick's world record holder's bench press workout in Germany
(see cover photo).
Our second Swimsuit Issue.
York Barbell Meet Action.
Jamie Harris on hooks. Not literally of course!

Running Time: 60 mins

* Available in NTSC DVD Only (Region Free)
* THIS DVD WILL PLAY ON ANY DUAL SYSTEM NTSC / PAL DVD PLAYER AND TV. Or any PC DVD.