Details: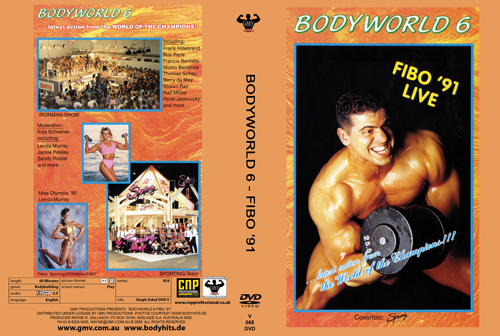 FIBO '91 (Bodyworld # 6)
FIBO '91 WHERE THE SUPERSTARS MEET....
ALL THE LATEST ACTION FROM THE WORLD OF THE CHAMPIONS!!

BODYWORLD #6 showcases FIBO '91 - the latest action from the world's premier bodybuilding trade show. Most of the world's top bodybuilders from the 90s guest pose and meet their fans at this Expo. In this edition of FIBO from 1991, we decided to release it under the banner of our very special Bodyworld Series.

FIBO is a drawcard for the world of bodybuilding - stars, fans and exhibitors alike. Here you can see the latest in workout gear, hear interviews with the top stars, have them sign photos for you AND see some of the most magnificent bodybuilding routines ever devised. Held annually in Essen in 7 huge Expo Halls.

See a galaxy of European and American stars in a frenzy of bodybuilding action. Front cover photo features popular German star FRANK HILLEBRAND.

SEE THESE EUROPEAN & INTERNATIONAL CHAMPIONS:

Mike Christian
Bob Paris
Berry DeMey
Shawn Ray
Charles Glass
Francis Benfatto
Pavol Jablonicky
Frank Hillebrand
Momo Benaziza
Thomas Scheu
Ralf Mueller
Joe Dawson
Rich Gaspari
Patrick Nicholls
Renel Janvier
Gier Borgan Paulsen
Philippe Aglietta
Eddie Robinson
Robbie Robinson
John Brown
JJ Marsh
Richard Gya
Lenda Murray
Jackie Paisley
Anja Schreiner
Sandy Riddell
Gabi Szikszay
Ina Lopulissa
Bev Francis and many more.

Running Time: 60 mins

* Available in NTSC DVD Only (Region Free)
* THIS DVD WILL PLAY ON ANY DUAL SYSTEM NTSC / PAL DVD PLAYER AND TV. Or any PC DVD.