Details: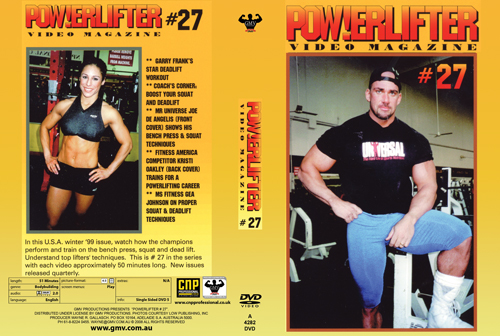 Powerlifter Video Magazine Issue # 27
CONTENTS:
Gary Frank's star deadlift workout.
Coach's corner: boost your squat and deadlift.
Mr. Universe Joe DeAngelis (pictured on front cover) shows his bench press and squat techniques.
Fitness America Competitor Kristi Oakley trains for a powerlifting career.
Ms Fitness Gea Johnson on proper squat and deadlift techniques.

51 minutes of the best, most entertaining information from the exciting world of Powerlifting!

Running Time: 60 mins

* Available in NTSC DVD Only (Region Free)
* THIS DVD WILL PLAY ON ANY DUAL SYSTEM NTSC / PAL DVD PLAYER AND TV. Or any PC DVD.