Details: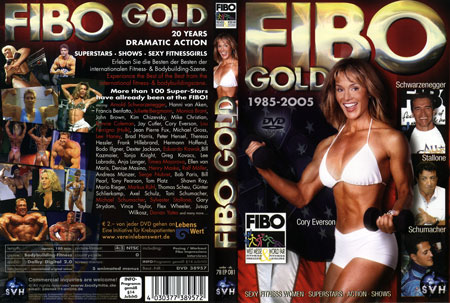 20 YEARS OF DRAMATIC ACTION FROM FIBOS 1985 TO 2004 INCLUSIVE, DVD released at FIBO 2005.

SEE ALL THE SUPERSTARS - POSING SHOWS - SEXY FITNESS & BODYBUILDING CHAMPIONS & MORE.
Experience the best of the best from the international Fitness and Bodybuilding scene.
MORE THAN 100 SUPER STARS HAVE ALLREADY BEEN TO FIBO!
STARRING :
Arnold Schwarzenegger, Dennis Adau, Kirsten Adelmann, Hanni van Aken, Melvin Anthony, Alexandra Baumann, Tanja Baumann, Diana Bayer, Mona Beaulieu, Albert Beckles, Alain Belique, Mustapha Bellaha, Frederica Belli, Momo Benaziza, Francis Benfatto, Alexandra Beres, Juliette Bergmann, Prof. F. Beuker, Andrulla Blanchette, Amanda Blank, Monica Brant, John Brown, Tony Brown, Sharon Bruneau, Albert Busek, Arthur Buurmann, Kim Chizevsky, Mike Christian, Ronnie Coleman, Selvin Cottrell, Monique Covet, Jay Cutler, Roland Czirlouk, Shaun Davis, Chris Duffy, Marla Duncan, Enn Lene Ekrem, Kamal Elgargni, Cory Everson, Lou Ferrigno, Pepper Ferry, Mia Finnegan, Bev Francis, Andreas Frey, Sabine Froschauer, Jean Pierre Fux, Sue Gafner, Tamer Galal, Rich Gapari, Eberhard Ginger, Michael Gross, Alq Gurley, Ricardo Gya, Lee Haney, Brad Harris, Peter Hensel, Theresa Hessler, Frank Hillebrand, Hermann Hoffend, Yolanda Hughes, Bodo Illgner, Dexter Jackson, Heiko Kallbach, Eduardo Kawak, Bill Kazmaier, Guido Kessler, Susanne Kieseling, Hermine Klinger, Tonja Knight, Anna Konstandinidou, Greg Kovacs, Lee Labrada, Anja Langer, Natalya Lenartova, Ina Lopulissa, Marie Laure Mahabir, Timea Majorova, Silvia Malachovska, Maryse Manios, Ellen van Maris, Denise Masino, Henry Maske, Ronald Matz, Paul de Mayo, Rolf Milser, Gabriela Mlsnova, Ralf Moller, Claudia Mühlhaus, Andreas Munzer, Lenda Murray, Alfred Neugebauer, Susanne Niederhauser, Serge Nubret, Romina Padi, Deidre Pagnanelli, Susana Palma, Bob Paris, Diana Partheymuller, Bill Pearl, Tony Pearson, Tom Platz, Conny Plosser, Wolf-Dieter Poschmann, Mike Quinn, Shawn Ray, Sandy Riddell, Mario Rieger, Marie-Pierre Ripert, Claudia Rohrs, Heide Rosenthal, Markus Ruhl, Denise Rutkowski, Thomas Scheu, Gabriela Scheu, Markus Schick, Gunter Schlierkamp, Sonny Schmidt, Anja Schreiner, Axel Schulz, Toni Schumacher, Michael Schumacher, Steven *Siggi* Segers, Regina da Silva, Kim Silver, Sylvester Stallone, Gary Strydom, Dawn Sutherland, Vince Taylor, Ernie Taylor, Rick Testo, Tommi Thorvildsen, Anja Timmer, Eleonore Urbansky, Tomm Voss, D.J. Wallis, Sabine Weeke, Ben & Joe Weider, Flex Wheeler, Jusup Wilkosz, Dorian Yates,
and many many more......
The brief interviews include both German and English speaking.

Running Time: 180 mins

* Available in NTSC DVD Only (Region Free)
* THIS DVD WILL PLAY ON ANY DUAL SYSTEM NTSC / PAL DVD PLAYER AND TV. Or any PC DVD.