Details: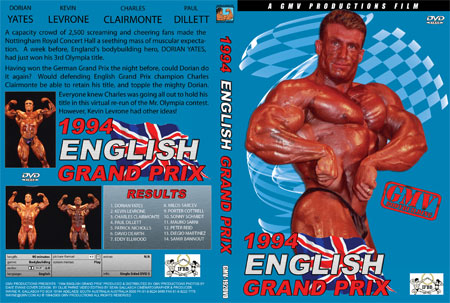 1994 English Grand Prix

THE PLACE: NOTTINGHAM, UK.
THE DATE: SUNDAY SEPTEMBER 18, 1994.
A capacity crowd of 2,500 screaming and cheering fans made the Nottingham Royal Concert Hall a seething mass of muscular expectation. The lighting was superb and the stage was set for the mother of all battles. A week before, England's bodybuilding hero, DORIAN YATES, had just won his 3rd Olympia title.
Having won the German Grand Prix the night before, could Dorian do it again? Would defending English Grand Prix champion Charles Clairmonte be able to retain his title, and topple the mighty Dorian off his throne? Everyone knew Charles was going all out to hold his title in this virtual re-run of the Mr. Olympia contest. Would Kevin Levrone spoil the party for Charles or Dorian?
FIRST OF ALL LET ME TELL YOU, that taping this Grand Prix was a fantastic experience with the world's greatest physiques lined up in front of me. Almost as good as taping the Olympia, and the highlight of the year for me!! To see 14 of the Olympia's best physiques out on stage is the ultimate physique cameraman's experience. Never to be forgotten!
The DVD opens with some pump room footage followed by the lineup and introduction of competitors. Then it's round 1, the symmetry round - quarter turns in groups of three men. The competitors stand in a relaxed position, and make four quarter turns to the right as called by Wayne DeMilia. This allows the judges to asses each competitor's symmetry, proportion, skin tone and look for structural defects.
Next we show you round 2: The Compulsory Poses - firstly all 14 physiques individually, and then called out in groups of three. This is the muscularity round. Each competitor performs the seven compulsory poses:
FRONT DOUBLE BICEPS
FRONT LAT SPREAD
SIDE CHEST (EITHER SIDE)
BACK DOUBLE BICEPS
REAR LAT SPREAD
SIDE TRICEPS (EITHER SIDE)
ABS AND THIGH (WITH ONE LEG FORWARD)
Then it's time for round three - the free posing round. The excitement round! Of special note, this was one of the rare times we caught the following guys on tape as pros - Paul Dillett, Patrick Nicholls, David Dearth, Eddie Ellwood, Porter Cottrell and Samir Bannout.
Finally DeMilia calls out the top 6 men and they hit a few more compulsories followed by the exciting posedown for the frenetic audience. "King" Dorian is once again presented with a well-deserved first place trophy and cheque. This is the first ever English Grand Prix appearance of Dorian on DVD. He won this event again 2 years later in 1996. No English GP was held in 1998.
The placings were as follows:
1. Dorian YATES
2. Kevin LEVRONE
3. Charles CLAIRMONTE
4. Paul DILLETT (see below)
5. Patrick NICHOLLS
6. David DEARTH
7. Eddie ELLWOOD
8. Milos SARCEV
9. Porter COTTRELL
10. Sonny SCHMIDT
11. Mauro SARNI
12. Peter REID
13. Diego MARTINEZ
14. Samir BANNOUT

Running Time: 90 mins

* Available in NTSC DVD Only (Region Free)
* THIS DVD WILL PLAY ON ANY DUAL SYSTEM NTSC / PAL DVD PLAYER AND TV. Or any PC DVD.