Details: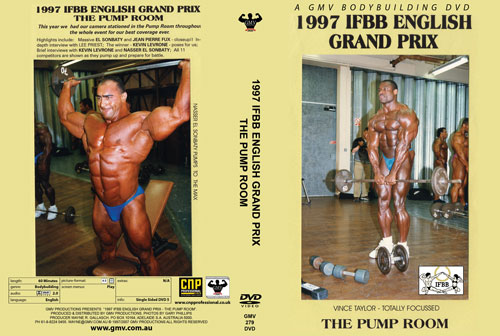 1997 ENGLISH GRAND PRIX: PUMP ROOM
Just one week after the 1997 Mr. Olympia, KEVIN LEVRONE went on to win the English Grand Prix, held in Nottingham, England. This DVD includes some magnificent posing, along with an interview with LEE PRIEST. Some of the big names hit poses for our camera. Most of the competitors are seen in the pump room.
Of the competitors listed below, the following are still competing as at the end of 2007:

Chris Cormier, Paul Dillett, Ronnie Coleman, Lee Priest and Vince Taylor. This was one of the last times that Ronnie Coleman placed below 1st place, as he took over the role of Mr Olympia as from 1998!
The English GP results were:
Kevin Levrone (U.S.A.)
Chris Cormier (U.S.A.)
Nasser El Sonbaty (Yugoslavia)
Paul Dillett (U.S.A.) (See below)
Ronnie Coleman (U.S.A.)
Lee Priest (Australia)
Vince Taylor (U.S.A.)
(tie) Jean Peirre Fux (Switzerland) & Milos Sarcev (Yugoslavia)
Charles Clairmonte (Barbados)
Shaun Davis (England)
60 minutes of muscle, sweat and oil!
HERE IS THE COMPLETE PAUL DILLETT DVD COLLECTION:
Paul Dillett - one of the unsung heroes of the mid-90's. Dogged by injuries, bad luck and ill health, this charismatic bodybuilder never quite reached
his maximum potential. He is an uncrowned Grand Prix winner in our book.
1996 English Grand Prix. Paul came 3rd
1994 English Grand Prix 4th placing
1993 Mr. Olympia 6th place
1994 Mr. Olympia 4th Place
1996 Mr. Olympia 6th place
1997 Mr. Olympia 5th place
1998 Mr. Olympia Sadly Paul withdrew due to illness
1994 FIBO
1997 FIBO
1996 Battle for the Olympia. Possibly the only training footage ever seen of Paul Dillett.
1993 Iron Man Pro Invitational 4th place
1996 Iron Man Pro Invitational 2nd place - his highest placing ever.
1999 Mr. Olympia Pump Room
1997 Battle for the Olympia - Paul Dillett trains arms
1998 Battle for the Olympia - Paul trains shoulders
1999 Mr. Olympia Interviews A rare interview with Paul
1997 English Grand Prix 4th place
FIBO '95 - Stars of World Bodybuilding
1997 Iron Man Pro Invitational 5th place

Running Time: 60 mins

* Available in NTSC DVD Only (Region Free)
* THIS DVD WILL PLAY ON ANY DUAL SYSTEM NTSC / PAL DVD PLAYER AND TV. Or any PC DVD.