Details: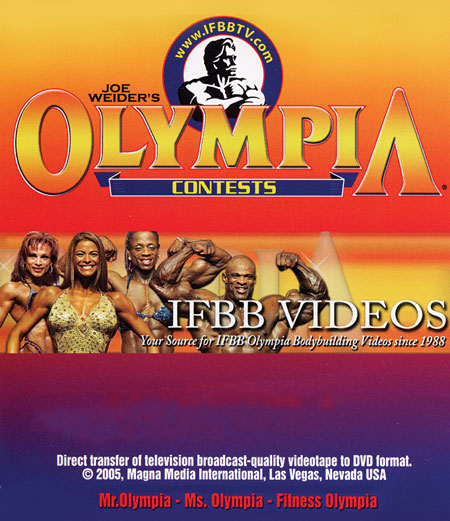 1995 Ms. Olympia and Fitness Olympia (Historic DVD)

"Power and Grace" -- Lenda Murray wins her 6th Ms. Olympia bodybuilding title while the dynamic and athletic Fitness Olympia contestants mark their entry into the IFBB led by Mia Finnegan, first-ever Fitness Olympia Champion. From Atlanta, Georgia. MS. OLYMPIA: Lenda Murray (1), Kim Chizevsky (2), Natalia Murnikoviene (3), Sue Price (4), Laura Creavalle (5), Debbie Muggli (6), Joanne Lee (7), Michelle Ralabate (8), Eva Sukupova (9), Nancy Lewis (10). FITNESS OLYMPIA: Mia Finnegan (1), Carol Semple (2), Saryn Muldrow (3), Dale Tomita (4), Denise Paglia (5), Madonna Grimes (6).

This is an authorized and licensed copy made directly from the broadcast-quality master tape. It does not come with the original video cover information.

Running Time: 91 mins

* Available in NTSC DVD Only (Region Free)
* THIS DVD WILL PLAY ON ANY DUAL SYSTEM NTSC / PAL DVD PLAYER AND TV. Or any PC DVD.