Details: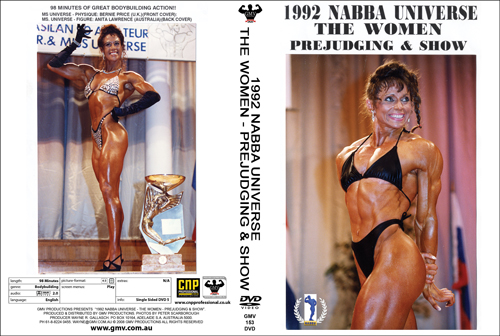 1992 NABBA Universe: The Women's Prejudging & Show
Held in England each year this prestigious contest goes from strength to strength. 98 minutes of some incredibly beautiful physiques - both physique and figure categories, all posing in those g-string costumes which are justly famous. This year's event was held in London.

The DVD contains the Prejudging and evening Show with all of the posing, key comparisons through to the Overall Awards.

You see every muscular body part with our camera recording many wonderful close-ups. Sabine Weeke is one of the most beautiful women we have ever seen, see photo below. Saryn Muldrow later went on to win the Fitness Olympia title.

The Overall Winners were:
Ms. Universe - Physique: BERNIE PRICE (U.K.)
Ms. Universe - Figure: ANITA LAWRENCE (Australia)

1992 NABBA Universe - The Women's Results:

Tall Class Physique
1 Bernadette Price - UK
2 Nuria Sala - Spain
3 Marie Fisher - UK
4 Nicole Reading - UK
5 Reena Howard - South Africa
6 Lynne Bennett - UK

Short Class Physique
1 Lynda Mason - UK
2 Debbie Pickford - Australia
3 Cathy Butler - USA
4 Laurie Fierstein - USA
5 Coral Blair - UK
6 Irena Pauchenko - Russia

Overall Women's Physique Winner: Bernadette Price UK

Figure Tall Class
1 Saryn Suldrow - Denmark
2 Anna Maria Onofrio - Italy
3 Pauline Oliver - UK
4 Andra Day - UK
5 Marta Paradiso - Italy
6 Belena Quintero - Brazil

Figure Short Class
1 Anita Lawrence - Australia
2 Jackie Young - UK
3 Susana Perez - Spain
4 Tatiana Kovalenko - Belarus
5 Marion Klappert - Holland
6 Manuela Franz - Germany

Figure Overall Winner: Anita Lawrence AUSTRALIA

Running Time: 97 mins

* Available in NTSC DVD Only (Region Free)
* THIS DVD WILL PLAY ON ANY DUAL SYSTEM NTSC / PAL DVD PLAYER AND TV. Or any PC DVD.