Details: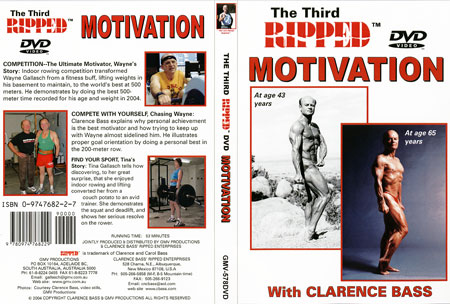 The Third Ripped DVD with Clarence Bass - Motivation
The principles discussed and illustrated here are the ones that have kept Clarence training to improve long after many others have lapsed into maintenance training or given up altogether.
Completely different, this third DVD is about motivation, the sine qua non of all successful training efforts. No worthwhile fitness goal can be achieved without motivation. Using real life stories, it show you how to stay motivated year after year.
Wayne & Tina Gallasch and Clarence tell inspiring stories about themselves and their motivation. Wayne's story is about competition, the ultimate motivator. Wayne transformed himself from a fitness buff, lifting weights in his basement, to the world's best indoor rower at 500 meters for his age and weight. Clarence explains why personal achievement is the best motivator and how trying to keep up with Wayne almost sidelined him. Tina tells how discovering, to her great surprise, that she enjoyed indoor rowing and lifting converted her from a casual and unmotivated workout person to an avid trainer.
The DVD includes exciting action footage, rowing and weight training. Wayne shows his superb form in the squat and deadlift, and demonstrates the ultimate in motivation by doing the best 500-meter time recorded for his age and weight in 2004. Clarence shows us excellent technique in the squats and illustrates proper goal orientation by doing a personal best in the 200-meter row. Tina shows how the dead lift should be done and shows her serious resolve on the rower doing Tabatas.
(CUSTOMER REVIEW)
Feedback on 3rd Ripped DVD: MOTIVATION.
I finally had a chance to watch your third video last night, and I loved it! For someone like me who has been working out for over 25 years, I am less interested in instruction about form or technique at this point and much more interested in motivational issues. The beauty of this video is that it focuses almost exclusively on the motivation. (And I disagree with the criticism you have heard from some that it's "too much about rowing" -- it's not about rowing, it's about motivation. Rowing just happens to be the backdrop.)
I liked how the viewer got all three stories -- Wayne's, yours and Tina's. Wayne is a fascinating guy, low-key but incredibly driven. He obviously is genetically gifted. Not many could advance as quickly as he has in this field. You can tell that this guy is strong just by how his biceps fill out the sleeves of his t-shirt! I like how he is able to combine his lifting with his rowing in a way that does not give short shrift to either.
Your story was a good reminder of how we must compete within ourselves. I can see that it must have been hard for you to see your friend Wayne as a Johnny-come-lately step into this sport and ease past you so quickly. It seems that your initial reaction was, "He must just be working harder than me!" But I doubt that was the case -- Wayne simply has extraordinary genetic gifts, or so it would seem.
Tina is delightful, because she comes across as the more ordinary "every-woman" type, and less intimidating to some than lifelong "hardcores" like you and Wayne. People see Tina, and they say, "If she can do it, I can do it."
Dan, aka "Musclehead Law Professor".
***************************************
Clarence Bass, the living embodiment of the word "Ripped", has achieved unprecedented levels of lean muscularity through healthy living. Winner of his height division in the "Past - 40" Mr. America and Mr. USA (and "Best Abdominals", "Best Legs" and "Most Muscular", as well), his image and his principles of diet and exercise have led people around the world to stronger and healthier lives. This DVD shares with you his secrets.
In 2003 Clarence Bass was the special Guest of Honor at The Association of the Oldetime Barbell and Strongmen Historic 20th Annual Reunion and Dinner in New Jersey.



Running Time: 60 mins

* Available in NTSC DVD Only (Region Free)
* THIS DVD WILL PLAY ON ANY DUAL SYSTEM NTSC / PAL DVD PLAYER AND TV. Or any PC DVD.