Details: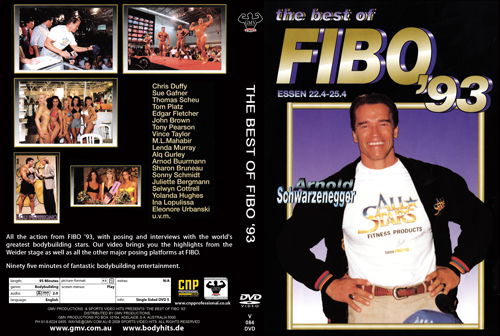 The Best of FIBO '93

(Includes special guest appearances by Arnold Schwarzenegger and Lou Ferrigno)
All the action from FIBO '93, with posing and interviews with the world's greatest bodybuilding stars. Our DVD brings you the highlights from the Weider stage as well as all the other major posing platforms at FIBO.
95 minutes of fantastic bodybuilding entertainment.

SEE THE FOLLOWING STARS:
Arnold Schwarzenegger, Lenda Murray, John Brown, Lou Ferrigno, Edgar Fletcher, Alq Gurley, Tom Platz, Sue Gafner, Marie Laure Mahabir, Sharon Bruneau, Chris Duffy, Vince Taylor and many more.

Undoubtedly Arnold's appearances at FIBO and at the Gala Show at the Gruga Hall was the highlight of the event.

Running Time: 95 mins

* Available in NTSC DVD Only (Region Free)
* THIS DVD WILL PLAY ON ANY DUAL SYSTEM NTSC / PAL DVD PLAYER AND TV. Or any PC DVD.