Details: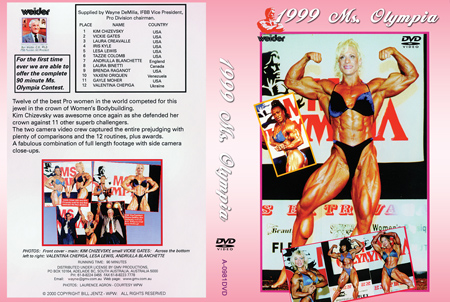 1999 Ms. Olympia (Historic DVD)

For the first time ever we are able to offer the complete 90 minute Ms.
Olympia Contest on DVD. It covers from Round 1 of the Prejudging right through to the posedown and final awards.

Twelve of the best Pro women in the world competed for this jewel in the crown of Women's Bodybuilding. Kim Chizevsky was awesome once again as she defended her crown against 11 other superb challengers. The two camera video crew captured the entire prejudging with plenty of comparisons and the 12 routines, plus posedown and awards.

See early footage of Iris Kyle, Andrulla Blanchette, Yaxeni Oriquen and Valentina Chepiga - all of which went on to later win the Ms. Olympia title.
This has never been seen before with 5 winners (in due course) of the Ms Olympia title in the one event!

A fabulous combination of full length footage with side camera close-ups.
Women's bodybuilding at its very best in an all-time classic contest. The footage was supplied by WPW and was not a Magna Media Production.

RESULTS:

1. KIM CHIZEVSKY
2. VICKIE GATES
3. LAURA CREAVALLE
4. IRIS KYLE
5. LESA LEWIS
6. TAZZIE COLOMB
7. ANDRULLA BLANCHETTE
8. LAURA BINETTI
9. BRENDA RAGANOT
10. YAXENI ORIQUEN
11. GAYLE MOHER
12. VALENTINA CHEPIGA

Running Time: 90 mins

* Available in NTSC DVD Only (Region Free)
* THIS DVD WILL PLAY ON ANY DUAL SYSTEM NTSC / PAL DVD PLAYER AND TV. Or any PC DVD.