Details: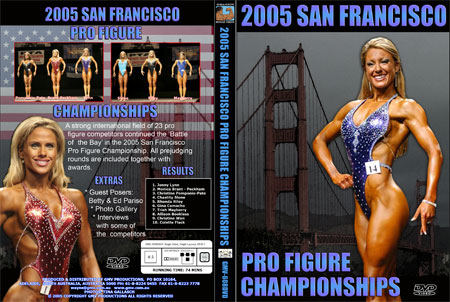 2005 San Francisco Pro Figure Championships

See Jenny Lynn once again narrowly defeat arch rival Monica Brant, one week after the Arnold Figure event. It was a good battle in this very strong international field. This looks like being our only IFBB Pro Figure DVD this year.

A strong international field of 23 pro figure competitors continued the 'Battle of the Bay'.

All prejudging rounds are included together with awards.

Jenny Lynn is now an Olympia Figure Class winner.

Special Features:

* Guest Posers - Betty Pariso and Ed Pariso
* Photo Gallery
* Interviews with some of the competitors after the event.

Results:

1. Jenny Lynn
2. Monica Brant-Peckham
3. Christine Pomponio-Pate
4. Chastity Slone
5. Rhonda Riley
6. Gina Camacho
7. Trish Mayberry
8. Allison Bookless
9. Christine Wan
10. Collette Flack
11. Marcy Porter
12. Cherie Loomes
13. Misty Yi
14. Alejandra Abdala
15. Lynsey Beattie-Ahearne
16. Chrissy Garcia
16. Debbie Denio
16. Meral Ertunc
16. Mascha Tieken
16. Waleska Granger
16. Karina Nacimento
16. Aleksandra Kobielak
16. Brittany Thorsch

Running Time: 74 mins

* Available in NTSC DVD Only (Region Free)
* THIS DVD WILL PLAY ON ANY DUAL SYSTEM NTSC / PAL DVD PLAYER AND TV. Or any PC DVD.