Details: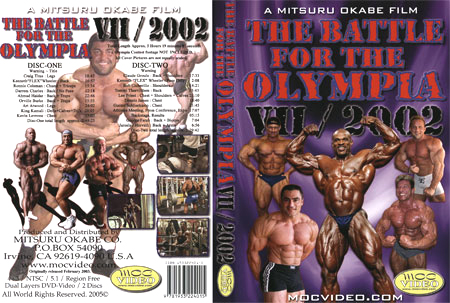 The Battle for the Olympia 2002 2 DVD Set

This classic 2 disc version from 2002 has been totally expanded and there is even more footage of each of the athletes that were taped. See all the pros before they go on stage and you can decide the winner and how you feel the placings should have turned out! This is another classic "Battle " DVD.
The 2002 Battle for the Olympia is a very good glimpse into the pre-contest training of several top Mr. Olympia contenders. We get to see not only their training routines, but also learn about some of their nutritional secrets and see their lives at home in some cases. Many of the athletes also pose and their strengths and weaknesses can be assessed in the days leading towards the Olympia contest. Ronnie Coleman at 275 pounds and Gunter Schlierkamp at 303 pounds are seen in the DVD. The condition of most of the athletes featured is very close to the contest condition because of the time of most of the shoots. A good DVD, and certainly worth buying if you are a fan of bodybuilding.
Bodybuilders of the Video - DISC 1
00:00 Craig Titus Friday, September 27th Legs Las Vegas, NV
00:19 Flex Wheeler Monday, September 30th Back Venice, CA
00:37 Ronnie Coleman Tuesday, October 1st Chest / Triceps Arlington, TX
00:52 Darrem Charles Thursday, October 3rd Back, No Posing Deerfield Beach, FL
01:05 Ahmad Haidar Friday, October 4th Back / Traps West Palm Beach, FL
01:27 Orville Burke Saturday, October 5th Back / Traps Syosset, NY
01:43 Art Atwood Sunday October 6th Quads / Hamstrings West Allis, WI
02:07 King Kamali Monday, October 7th Shoulders / Calves / Triceps Tysons Corner, WA
02:27 Kevin Levrone Monday, October 7th Chest Millersville, MD
Bodybuilders of the Video - DISC 2
00:00 Claude Groulx Wednesday, October 9th Back / Shoulders Venice, CA
00:17 Flex Wheeler Thursday, October 10th Pose Only Venice, CA
00:20 Bob Cicherillo Thursday, October 10th Shoulders Venice, CA
00:34 Tommi Thorvildsen Friday, October 11th Back Venice, CA
00:50 Lee Priest Saturday, October 12th Chest / Shoulders / Calves Lancaster, CA
01:11 Dennis James Sunday, October 13th Chest Fullerton, CA
01:29 Gunter Schlierkamp Sunday, October 13th Chest Venice, CA

Running Time: 322 mins

* Available in NTSC DVD Only (Region Free)
* THIS DVD WILL PLAY ON ANY DUAL SYSTEM NTSC / PAL DVD PLAYER AND TV. Or any PC DVD.