Details: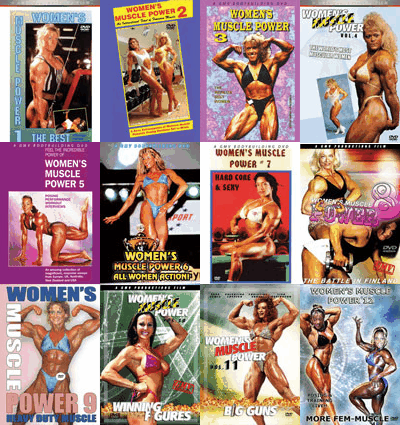 WOMEN'S MUSCLE POWER - MEGA DEAL!

"15 wonderful DVDs full of Women's Muscle Power Action"

See the very best of the best fit female muscle in the world. This awesome DVD series is the cream of the crop from across the globe over the past 25 years.

Sexy, seductive, strong and muscular, these women are all champions of the sport of Women's Bodybuilding, Figure, Fitness and Bikini.

See them compete on stage, work out in the gym or pumping up backstage - This is 100% women's bodybuilding action.

PCB has done it again and has purchased 10 complete sets ONLY, ready to ship. That's 15 DVDs, over 25 years of Pro Women Action!

Over 1260 plus minutes of Women's Pro Bodybuilding muscle ACTION!

Order today and receive FREE SHIPPING - WORLDWIDE!

WOMEN'S MUSCLE POWER - MEGA DEAL!
Special Price is just $499.95 with FREE SHIPPING - WORLDWIDE!

*** To buy each of the 15 DVDs separately would be $604.20 (plus 5.85 X 12 = $70.20 shipping) - Total $674.40

That is a HUGE $174.45 SAVING!!!

Running time: 1260+ mins

* Available in NTSC DVD Only (Region Free)
* THIS DVD WILL PLAY ON ANY DUAL SYSTEM NTSC / PAL DVD PLAYER AND TV. Or any PC DVD.