Details: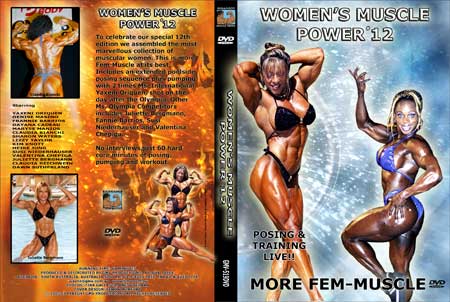 Women's Muscle Power # 12: More FemMuscle - Live!!
To celebrate our special 12th edition we assembled the most marvelous collection of muscular women. This is more FemMuscle at its best.
Includes chapter points for each of the stars. Choose from the menu of short video previews showing your favourite females in action, pumping, posing and strutting their stuff.
There is also a bonus photo gallery, with a variety of great action shots in different locations, costumes and poses. Photos are not necessarily from the video shoots on the DVD.
Starring -
YAXENI ORIQUEN - 2 times Ms. International
DENISE MASINO
SUSI NIEDERHAUSER
VALENTINA CHEPIGA - Ms. Olympia
FANNIE BARRIOS
JULIETTE BERGMANN - 2 times Ms. Olympia
DAYANA CADEAU - Ms. International
KIM KNOTT - 2 times Natural Ms. Olympia
CLAUDIA REICHWEIN
DAWN SUTHERLAND
HEIKE JUNG
MARYSE MANIOS
CLAUDIA BIANCHI
LIZZY TAYLOR
SHARON WATERS
Includes an extended poolside posing sequence plus pumping with 2 times Ms. International Yaxeni Oriquen, shot on the day after the Olympia. Other Ms. Olympia competitors include Juliette Bergmann, Fannie Barrios, Susi Niederhauser, and Valentina Chepiga.



Running Time: 65 mins

* Available in NTSC DVD Only (Region Free)
* THIS DVD WILL PLAY ON ANY DUAL SYSTEM NTSC / PAL DVD PLAYER AND TV. Or any PC DVD.