Details: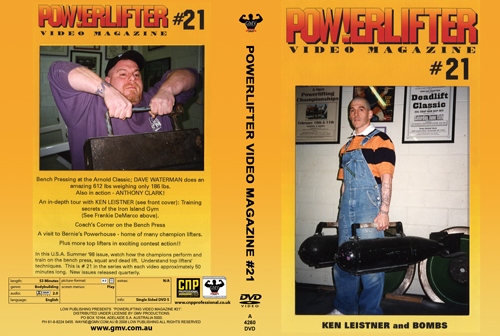 Powerlifter Video Magazine Issue # 21
HIGHLIGHTS INCLUDE:

Bench Press at the Arnold Classic - Dave Waterman does an amazing 612 lbs weighing only 186 lbs. Also in action -

Anthony Clark, the one and only!

Tour of Iron Island Gym - an in-depth tour with Ken Leistner (see front cover photo), with secrets from the Iron Island Gym (see Frankie DeMarco photo on rear of cover).

Coach's Corner featuring The Bench Press.

Bernie's Powerhouse visit - home of many champions.

Plus more top lifters in exciting contest action. 53 minutes of powerful and pulsating action in this the Summer USA issue. Photos courtesy of Low Publishing, Inc. Distributed under license by GMV Productions.

Running Time: 60 mins

* Available in NTSC DVD Only (Region Free)
* THIS DVD WILL PLAY ON ANY DUAL SYSTEM NTSC / PAL DVD PLAYER AND TV. Or any PC DVD.