Details: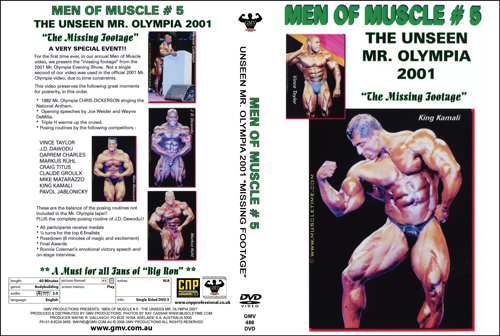 Men of Muscle # 5: The Unseen Mr. Olympia 2001 - the Missing Footage!
THIS WAS A VERY SPECIAL EVENT!!
For the first time ever, in our annual Men of Muscle video, we present the "missing footage" from the 2001 Mr. Olympia Evening Show. Not a single second of our video was used in the official 2001 Mr. Olympia video, due to time constraints of total running time.
This DVD preserves the following great moments for posterity, in this order:
* 1982 Mr. Olympia CHRIS DICKERSON singing the National Anthem.
* Opening speeches by Joe Weider and Wayne DeMilia.
* Triple H warms up the crowd.
* Posing routines by the following competitors -
VINCE TAYLOR
J.D. DAWODU
DARREM CHARLES
MARKUS RÜHL
CRAIG TITUS
CLAUDE GROULX
MIKE MATARAZZO
KING KAMALI
PAVOL JABLONICKY
These posing routines listed above are the balance of the posing routines not included in the Mr. Olympia official contest DVD!!
PLUS our presentation includes the complete posing routine of J.D. Dawodu!!
* All participants receive medals
* ¼ turns for the top 6 finalists
* Posedown (6 minutes of magic and excitement)
* Final Awards
* Ronnie Coleman's emotional victory speech and on-stage interview



Running Time: 65 mins

* Available in NTSC DVD Only (Region Free)
* THIS DVD WILL PLAY ON ANY DUAL SYSTEM NTSC / PAL DVD PLAYER AND TV. Or any PC DVD.