Details: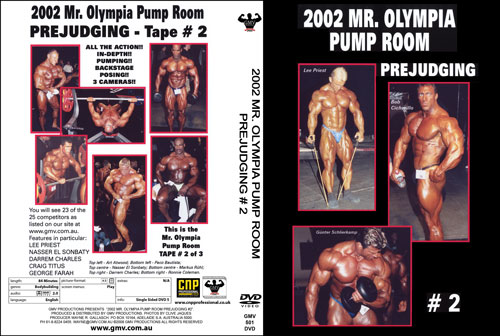 2002 Mr. Olympia Prejudging Pump Room # 2

This is an ALL PUMPING ACTION DVD - but with no chat! Completely different pumping action shot by our other 2 cameras with Sean and Brett in the Mr. Olympia Prejudging Pump Room. There is so much going on at once with a near record 25 guys fighting for the weights!

You will see the following competitors as they pump!!

Dennis James
Darrem Charles
Art Atwood
Tommi Thorvildsen
King Kamali
George Farah
Ronnie Coleman
Bob Cicherillo
Craig Titus
Markus Ruhl
Lee Priest
Orville Burke
Claud Groulx
Don Youngblood
Kevin Levrone
Flex Wheeler
Dexter Jackson
Ahmad Haidar
Chris Cormier
Nasser El Sonbaty
Gustavo Badell
Gunter Schlierkamp
Paco Bautista

In particular our cameras highlight the following 5 guys, who spent the longest time in the pump up area:

LEE PRIEST
NASSER EL SONBATY
DARREM CHARLES
CRAIG TITUS
GEORGE FARAH

Full of tension and drama, this DVD is completely different to the first one in the series which features Shawn Ray chatting with the guys as they pump. There's no talking in this one! Just action, action and more hard core action.

2002 MR OLYMPIA COMPLETE RESULTS:

1. Ronnie Coleman
2. Kevin Levrone
3. Chris Cormier
4. Dexter Jackson
5. Gunter Schlierkamp
6. Lee Priest
7. Flex Wheeler
8. Markus Ruhl
9. Orville Burke
10. Dennis James
11. Craig Titus
12. Art Atwood
13. Ahmad Haidar
14. Ernie Taylor
15. Nasser El Sonbaty
The following were placed 16th
Gustavo Badell
Francisco Bautista
Darrem Charles
Bob Cicherillo
George Farah
Claude Groulx
Jaroslav Horvath
King Kamali
Tommi Thorvildsen
Don Youngblood

This is Mr. Olympia Prejudging Pump Room - DVD # 2 of 3.

Running Time: 85 mins

* Available in NTSC DVD Only (Region Free)
* THIS DVD WILL PLAY ON ANY DUAL SYSTEM NTSC / PAL DVD PLAYER AND TV. Or any PC DVD.