Details: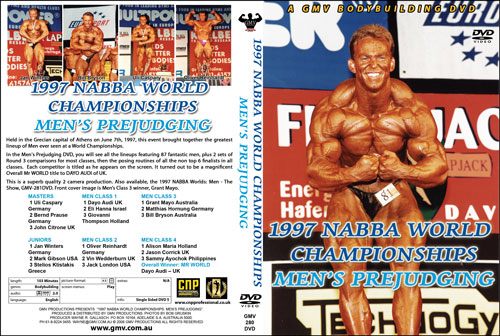 1997 NABBA World Championships: The Men's Prejudging
Held in the Grecian capital of Athens on June 7th, 1997, this event brought together the greatest lineup of Men ever seen at a World Championships. Greece is the ancestral home of World Bodybuilding and also the original home of the Olympic Games.

In the Men's Prejudging DVD, you will see all the lineups featuring 87 fantastic men, plus 2 sets of Round 3 comparisons for most classes, then the posing routines of all the non top 6 finalists in all classes.

Each competitor is titled as he appears on the screen.
This is a superb quality 2 camera production.
Click here for the 1997 NABBA World Men - The Show DVD, PCB-281DVD.

1997 NABBA WORLD CHAMPIONSHIPS - TOP 6 MEN'S RESULTS.

Overall Winner: MR WORLD
Dayo Audi – UK
MASTERS
1 Uli Caspary Germany
2 Bernd Prause Germany
3 John Citrone UK
4 Graeme Lancefield Australia
5 Jack Vandensteen Holland
6 Camara Ousman France

JUNIORS
1 Jan Winters Germany
2 Mark Gibson USA
3 Stelios Ktistakis Greece

MEN CLASS 1
1 Dayo Audi UK
2 Eli Hanna Israel
3 Giovanni Thompson Holland
4 Hannes Engelschall Austria
5 Torsten Hala Germany
6 Konstantin Poutchkov Russia

MEN CLASS 2
1 Oliver Reinhardt Germany
2 Vin Wedderburn UK
3 Jack London USA
4 Patrick Coppens Belgium
5 Paolo Tamarri Italy
6 Aant Vandegruiter Holland

MEN CLASS 3
1 Grant Mayo Australia
2 Matthias Hornung Germany
3 Bill Bryson Australia
4 Fabrizio Franceshetti Italy
5 Herwe Defradas France
6 Ramsford Smith UK
MEN CLASS 4
1 Alison Maria Holland
2 Jason Corrick UK
3 Sammy Ayochok Philippines
4 Massimo Travan Italy
5 Charles Durr USA
6 Andrei Kroutenco Russia

Running Time: 103 mins

* Available in NTSC DVD Only (Region Free)
* THIS DVD WILL PLAY ON ANY DUAL SYSTEM NTSC / PAL DVD PLAYER AND TV. Or any PC DVD.