Details: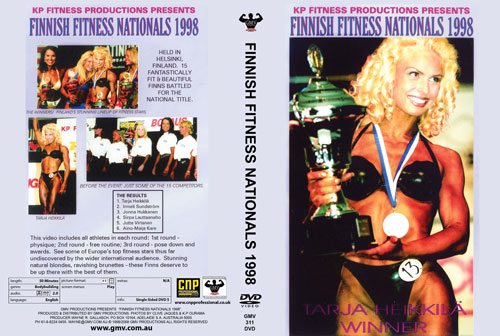 1998 Finnish Fitness Nationals
Held In Helsinki, Finland - 15 fantastically fit and beautiful fitness women battled for the IFBB National Finnish Fitness title. This DVD includes all athletes in each round; 1st round - physique; 2nd round - free routine; 3rd round - pose down and awards. See some of Europe's top fitness stars thus far undiscovered by the wider international audience. Stunning natural blondes, ravishing brunettes - these Finns deserve to up there with the best of them. Take a rare glimpse at the best of Scandinavian Fitness stars.

The stunning winner, TARJA HEIKKILÄ is pictured front cover.

COMPLETE RESULTS:

1. TARJA HEIKKILÄ
2. IRMELI SUNDSTRÖM
3. JONNA HUKKANEN
4. SIRPA LAUTTAANAHO
5. JUTTA VIRTANEN
6. AINO-MAIJA KARE
7. ANU MAKINEN
8. ANITTA MATTSSON
9. MARI MYOTYRI
10. PIRKKO KAISANLAHTI
11. SARI KUKKEENMAKI
12. HENNA AHTOLA
13. MARIKO KILPIO
14. SAIJA OHMERO
15. KATJA KOMULAINEN
NP
RIITA BERGLUND
SIRU PULLIAINEN
MARJUT VAINIO
PAULIINA POHJONEN
ANNA ENGLUND

Running Time: 50 mins

* Available in NTSC DVD Only (Region Free)
* THIS DVD WILL PLAY ON ANY DUAL SYSTEM NTSC / PAL DVD PLAYER AND TV. Or any PC DVD.