Details: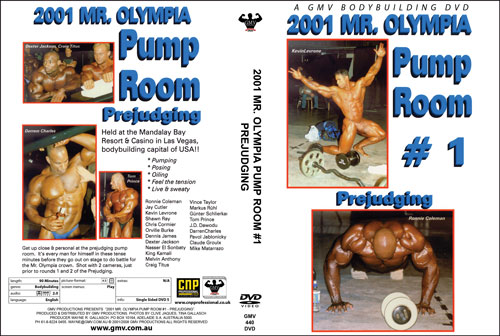 2001 Mr. Olympia: Pump Room # 1 - Prejudging
Held at the Mandalay Bay Resort & Casino in Las Vegas, bodybuilding capital of USA!!

This was one of the most exciting Olympias in recent history. At the end of the second round, JAY CUTLER was 6 points in front of Ronnie - but at the evening show, Ronnie posed his heart out to win the final two rounds. It was a close call, but the Master pulled it off. Then tension on stage is clearly mirrored back stage in both of our exciting pump room DVDs.

In this Pump Room DVD shot at the Prejudging, our 2 cameras catch all the action as follows:

* Pumping
* Posing
* Oiling
* Feel the tension
* Live & sweaty

Get up close and personal at the prejudging pump room. It's every man for himself in these tense minutes before they go out on stage to do battle for the Mr. Olympia crown. Shot with 2 cameras, just prior to rounds 1 and 2 of the Prejudging. You will see all of the competitors in the DVD with much footage on Kevin Levrone, Craig Titus, Ronnie and some of the other big names. See rare footage of Tom Prince. All of the men shown are listed in the RESULTS below.

THE FINAL RESULTS:
1. RONNIE COLEMAN USA.
2. JAY CUTLER USA.
3. KEVIN LEVRONE USA.
4. SHAWN RAY USA.
5. CHRIS CORMIER USA.
6. ORVILLE BURKE USA.
7. DENNIS JAMES USA.
8. DEXTER JACKSON USA.
9. NASSER EL SONBATY Yugoslavia
10. SHARI 'KING' KAMALI USA.
11. MELVIN ANTHONY USA.
12. CRAIG TITUS USA.
13. VINCE TAYLOR USA.
14. MARKUS RÜHL Germany
15. GÜNTER SCHLIERKAMP Germany
16. TOM PRINCE USA.
17. J.D. DAWODU England
18. DARREM CHARLES Trinidad
19. PAVOL JABLONICKY Czech Republic
20. CLAUDE GROULX Canada
21. MIKE MATARAZZO USA

Running Time: 90 mins

* Available in NTSC DVD Only (Region Free)
* THIS DVD WILL PLAY ON ANY DUAL SYSTEM NTSC / PAL DVD PLAYER AND TV. Or any PC DVD.