Details: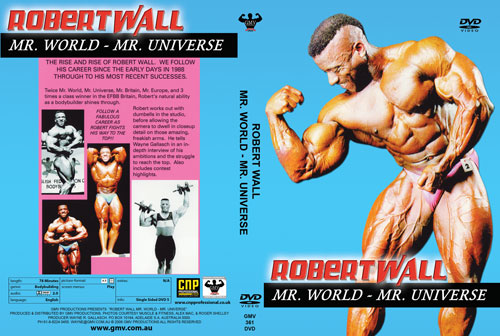 Robert Wall: Mr. World, Mr. Universe, Mr. Britain

THE RISE AND RISE OF ROBERT WALL! WE FOLLOW HIS CAREER SINCE THE EARLY DAYS IN 1988 THROUGH TO HIS MOST RECENT SUCCESSES.

Twice Mr. World, Mr. Universe, Mr. Britain, Mr. Europe and three times a class winner in the EFBB British Championships, Robert's natural ability as a bodybuilder shines through. Robert works out with dumbells in the studio, before allowing the camera to dwell in closeup on those amazing freakish arms and peaked biceps. He tells Wayne Gallasch in an in-depth interview of his ambitions and the struggle to reach the top.

Also includes many outstanding contest highlights.

Running Time: 79 mins

* Available in NTSC DVD Only (Region Free)
* THIS DVD WILL PLAY ON ANY DUAL SYSTEM NTSC / PAL DVD PLAYER AND TV. Or any PC DVD.