Details: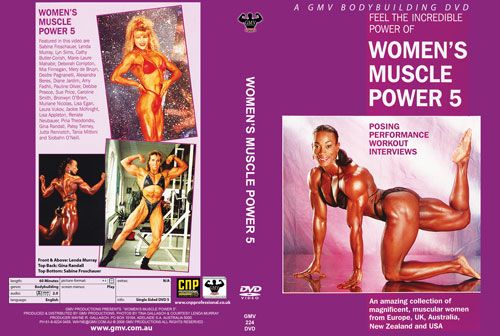 Women's Muscle Power # 05 - Feel the incredible power!
Enjoy an international feast of magnificent, muscular, feminine women from our best shoots over the past 5 years. This material is brand new and exclusive to Women's Muscle Power # 5. It is a combination of mostly posing along with some working out.

The 29 Stars Include:

USA - Lenda Murray, Mia Finnegan, Cathy Butler-Corish, Deidre Pagnanelli, Amy Fadhli, Sue Price and Laura Vukov
Australia - Tania Mittoni, Deborah Compton, Diane Jardim, Lyn Sims, Debbie Preece, Bronwyn O'Brien, Lisa Egan, Jackie Mcknight, Lisa Appleton, Pina Theodoridis, Gina Randall and Patsy Tierney
Holland - Mery De Bruyn
Austria - Jut-Ra Rennatch
Hungary - Alexandra Beres
Germany - Sabine Froschauer, Renate Neubauer
France - Marie-Laure Mahabir, Muriane Nicolas
UK - Pauline Oliver, Caroline Smith
New Zealand - Siobahn O'Neill



Running Time: 65 mins

* Available in NTSC DVD Only (Region Free)
* THIS DVD WILL PLAY ON ANY DUAL SYSTEM NTSC / PAL DVD PLAYER AND TV. Or any PC DVD.