Details: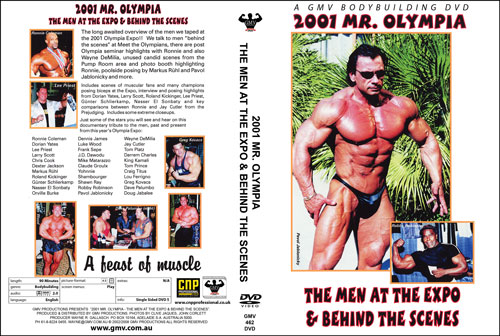 2001 MR. OLYMPIA: MEN AT THE EXPO & BEHIND THE SCENES

The long awaited overview of the men we taped at the 2001 Olympia Expo!! We talk to men "behind the scenes" at Meet the Olympians, there are post
Olympia seminar highlights with Ronnie and also Wayne DeMilia, unused candid scenes from the Pump Room area and photo booth posing highlighting Ronnie Coleman, poolside posing by Markus Ruhl and Pavol Jablonicky and more. See Pavol pictured front cover.

Includes scenes of muscular fans and many champions posing biceps for us at the Expo, interviews and posing, highlights from Dorian Yates, Larry Scott, Roland Kickinger, Lee Priest, Gunter Schlierkamp, Nasser El Sonbaty and key comparisons between Ronnie and Jay Cutler from the Prejudging. Includes some extreme closeups from our main camera.

These are just some of the stars you will see and hear in this documentary tribute to the men, past and present champions - from this year's Olympia Expo:

SOME OF THE STARS AND CELEBS YOU WILL SEE IN THIS DVD.
Ronnie Coleman
Dorian Yates
Lee Priest
Larry Scott
Chris Cook
Dexter Jackson
Markus Rühl
Günter Schlierkamp
Nasser El Sonbaty
Orville Burke
Dennis James
Luke Wood
Mike Matarazzo
Claude Groulx
Yohnnie Shambourger
Shawn Ray
Robby Robinson
Pavol Jablonicky
Wayne DeMilia
Jay Cutler
Tom Platz
Darrem Charles
King Kamali
Tom Prince
Craig Titus
Lou Ferrigno
Greg Kovacs
Frank Sepe
Roland Kickinger
J.D. Dawodu
Dave Palumbo
Terry Hairston
Doug Jabalee

PLUS: Key comparisons between Ronnie Coleman and Jay Cutler and also Shawn Ray at prejudging, with some extreme closeups; Wayne DeMilia on how pro bodybuilding got started; and see Charles Blake's fantastic new stage set.
2001 MR OLYMPIA RESULTS:
1. RONNIE COLEMAN USA.
2. JAY CUTLER USA.
3. KEVIN LEVRONE USA.
4. SHAWN RAY USA.
5. CHRIS CORMIER USA.
7. DENNIS JAMES USA.
8. DEXTER JACKSON USA.
9. NASSER EL SONBATY Yugoslavia
10. SHARI 'KING' KAMALI USA.
11. MELVIN ANTHONY USA.
12. CRAIG TITUS USA.
13. VINCE TAYLOR USA.
14. MARKUS RÜHL Germany
15. GÜNTER SCHLIERKAMP Germany
16. TOM PRINCE USA.
17. J.D. DAWODU England
18. DARREM CHARLES Trinidad
19. PAVOL JABLONICKY Czech Republic
20. CLAUDE GROULX Canada
21. MIKE MATARAZZO USA.

Running Time: 90 mins

* Available in NTSC DVD Only (Region Free)
* THIS DVD WILL PLAY ON ANY DUAL SYSTEM NTSC / PAL DVD PLAYER AND TV. Or any PC DVD.