Details: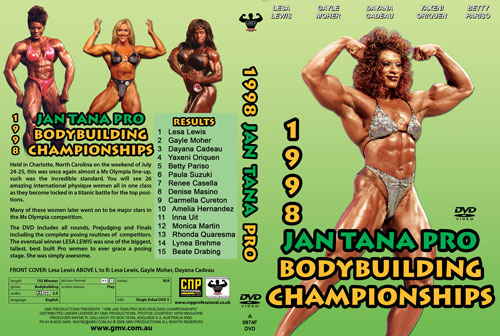 1998 Jan Tana Pro Classic

Held in Charlotte, North Carolina on the weekend of July 24-25, 1998, this was once again almost a Ms Olympia line-up, such was the incredible standard. You will see 23 amazing international BODYBUILDING WOMEN competing against each other in one massive class. They became locked together in a titanic battle for the top positions with the main battle being between LESA LEWIS, GAYLE MOHER, DAYANA CADEAU and new Pro YAXENI ORIQUEN.
Many of these women later went on to be major stars in the Ms Olympia competition. Yaxeni subsequently won the Ms Olympia title in 2005. Jan Tana inaugurated this famous event in 1991, and it quickly became a stepping-stone to greatness for the best female pros in the world as they fought to obtain Ms Olympia qualification.

The DVD includes all rounds, Prejudging and Finals including the complete posing routines of the competitors. The eventual winner LESA LEWIS was one of the biggest, tallest, best built Pro women to ever grace a posing stage. She was simply awesome! At 5'10" and weighing almost 200lbs ripped, she had a comprehensive victory over this star studded field. This victory gained her a trip to the 1998 Ms Olympia in Prague, Czech Republic, an event shot by GMV Productions in association with Magna Media International.

1998 Jan Tana Pro Classic Results:
1 Lesa Lewis USA
2 Gayle Moher USA
3 Dayana Cadeau CANADA
4 Yaxeni Oriquen VENEZUELA
5 Betty Pariso USA
6 Paula Suzuki USA
7 Renee Casella USA
8 Denise Masino USA
9 Carmella Cureton USA
10 Amelia Hernandez SPAIN
11 Inna Uit ESTONIA
12 Monica Martin BRAZIL
13 Rhonda Quaresma CANADA
14 Lynea Brehm CANADA
15 Beate Drabing AUSTRIA
NP
Margarita Alfaro ARGENTINA
Brigitta Carlsson-Hallstrom SWEDEN
Yurie Iijima JAPAN
Cristina Lavezzi ITALY
Donna Logue CANADA
Martha Sanchez MEXICO
Viviana Violante ITALY
Mary Ellen Warman USA

Running Time: 155 mins

* Available in NTSC DVD Only (Region Free)
* THIS DVD WILL PLAY ON ANY DUAL SYSTEM NTSC / PAL DVD PLAYER AND TV. Or any PC DVD.