Details: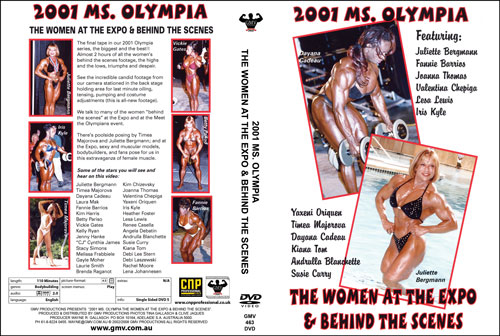 2001 Ms. Olympia: The Women at the Expo and Behind the Scenes
The final DVD in our 2001 Olympia series - the biggest and the best!! Almost 2 hours of all the women's behind the scenes footage, the highs and the lows, triumphs and despair.
See the incredible candid footage from our camera stationed in the back stage holding area for last minute oiling, tensing, pumping and costume adjustments (this is all-new footage).
We talk to many of the women "behind the scenes" at the Expo and at the Meet the Olympians.
There's poolside posing by the beautiful Timea Majorova and Juliette Bergmann; and at the Expo, sexy and muscular models, bodybuilders, and fans pose for us in this extravaganza of female muscle.
Some of the MANY stars you will see and hear on this DVD:
Juliette Bergmann
Timea Majorova
Dayana Cadeau
Laura Mak
Fannie Barrios
Kim Harris
Betty Pariso
Vickie Gates
Kelly Ryan
Jenny Hanke
"CJ" Cynthia James
Stacy Simons
Melissa Frabbiele
Gayle Moher
Laurie Smith
Brenda Raganot
Kim Chizevsky
Joanna Thomas
Valentina Chepiga
Yaxeni Oriquen
Iris Kyle
Heather Foster
Lesa Lewis
Renee Casella
Angela Debatin
Andrulla Blanchette
Susie Curry
Kiana Tom
Debbi Lee Stern
Debi Laszewski
Rachel Moore
Lena Johannesen
A FEAST OF FEMININE MUSCLE AT THE OLYMPIA! 110 MINUTES OF THE BEST WOMEN IN THE WORLD.

Running time: 110 mins

* Available in NTSC DVD Only (Region Free)
* THIS DVD WILL PLAY ON ANY DUAL SYSTEM NTSC / PAL DVD PLAYER AND TV.