Details: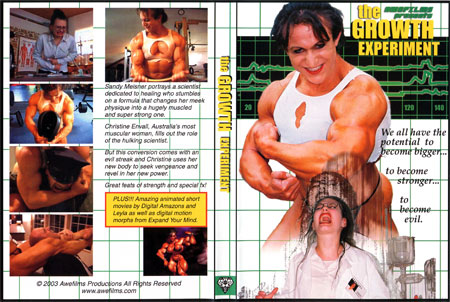 The Growth Experiment - Christine Envall & Sandy Meisner

Each of us has the potential

To become Bigger….
To become Stronger….

Sandy Meisner plays a scientist dedicated to healing who stumbles upon a formula that changes her meek physique into a hugely muscled and super strong one. Christine Envall, Australia's most muscular woman, fills out the role of the hulking scientist. But this conversion comes with a mean streak and Christine uses her new body to seek vengeance and revel in her new power. Great feats of strength and special fx. PLUS amazing animated short movies by Digital Amazons and Leyla as well as digital motion morphs from Expand-Your-Mind.

DVD PACKING
All our DVDs are sent in the plain white padded bags marked as GIFT. Hand addressed and with no GAMM logos or stickers on them. We always keep our packaging as low profile as possible to help ensure your privacy.



Running Time: 65 mins

* Available in NTSC DVD Only (Region Free)
* THIS DVD WILL PLAY ON ANY DUAL SYSTEM NTSC / PAL DVD PLAYER AND TV. Or any PC DVD.