Details: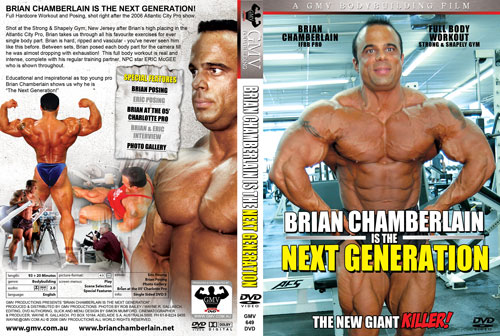 BRIAN CHAMBERLAIN is the NEXT GENERATION!
This is a full body hardcore workout and posing DVD featuring IFBB Pro BRIAN CHAMBERLAIN. It was shot by Wayne at the famous Strong & Shapely gym in New Jersey, right after the recent 2006 Atlantic City Pro show where Brian placed 6th. See him blast his way through all his favourite exercises with maximum intensity. Brian is hard, ripped and vascular.
Between sets, Brian posed and tensed each and every body part for the camera till he was almost dropping with exhaustion! The workout is real and intense, complete with his regular training partner ERIC McGEE who is shown throughout. Eric is an up and coming NPC star and they push each other set for set. We also include an impromptu posedown between the 2 guys when they go at it in the gym!
The DVD includes Brian's contest posing routine on stage at the Charlotte Pro.
At the end of the workout see Brian posing in various sequences including close-up with special emphasis on his huge arms and legs. This was shot in the gym's special posing practice room. Throughout the DVD we chat with Brian as he tells us of his career to date, how he trains, what he normally does and various other training tips as he knocks on the door of his Olympia qualification.
Brian is especially noted for his Lee Priest like arms, massive calves and outstanding overall leg development. These bodyparts are shown from every angle in many extreme close-ups. Witness some unbelievable sets on legs where the calves and hamstrings show the most incredible separation. Plus much more.
Brian is my USA IFBB Pro star workout feature for 2006. It is the most important shoot I have done since our Ronnie Coleman shoot one year ago.
99 minutes of mind blowing, gut busting workout action with the rising star of American pro bodybuilding. Plus 16 minutes of extra scenes and a huge photo gallery - Total running time 115 minutes.
Brian is with out doubt the new "giant killer"!
This DVD has easy navigation with multiple chapter points. It is both educational and inspirational as Brian shows us he truly is "The Next Generation!"
Extra Scenes:
Posing by Brian in the posing room
Brian at The 2005 Charlotte Pro
Posing by Eric in the posing room
Interview with Brian and Eric
Photo Gallery
We are pleased to report that Eric McGee, who is seen throughout this DVD assisting Brian, has won the overall title at the NPC Mountain Valle in Pa. It was mentioned in the video that he was preparing for this contest.
CONTEST HISTORY:

2006 Atlantic City Pro (Place: 6)

2006 Grand Prix Montreal-Canada (Place: 8)
2005 Olympia Weekend:
Wild Card event (Place 2nd)
2005 Charlotte Pro (Place: 7)
2004 North American Championships
Men: Overall Winner
Men: Earned Pro Card
Men: Light Heavyweight (Place: 1)
2002 National Bodybuilding & Fitness Championships
Men: Light Heavyweight (Place: 8)
2002 USA Bodybuilding & Figure Championships
Men: Light Heavyweight (Place: 6)
2001 National Bodybuilding & Fitness Championships
Men: Light Heavyweight (Place: 4)
2000 National Bodybuilding & Fitness Championships
Men: Middleweight (Place: 4)
1999 National Bodybuilding & Fitness Championships
Men: Middleweight (Place: 3)
1998 Junior Nationals
Men: Middleweight (Place: 2)



Running Time: 115 mins

* Available in NTSC DVD Only (Region Free)
* THIS DVD WILL PLAY ON ANY DUAL SYSTEM NTSC / PAL DVD PLAYER AND TV. Or any PC DVD.