Details: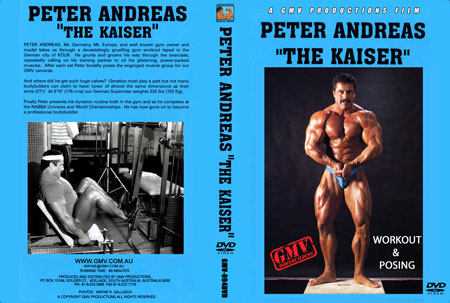 Peter Andreas "The Kaiser" DVD

PETER ANDREAS, Mr. Universe, Mr. Germany, Mr. Europe and well known gym owner and model takes us through a devastatingly grueling gym workout taped in the German city of Köln.
He grunts and groans his way through the exercises, repeatedly calling on his training partner to oil his glistening, power-packed muscles. After each set Peter brutally poses the engorged muscle group to our GMV cameras.
Where you may ask did he get such huge calves? Genetics must play a part but not many bodybuilders can claim to have 'cows' of almost the same dimension as their arms (21")! At 5'10" (176 cms), our German Superman weighs 225lbs (102Kg).
Finally Peter presents his dynamic routine both in the gym and as he competes at the NABBA Universe and World championships. He has now gone on to become a professional bodybuilder.
Contest Update: Peter is the only dual Masters Universe winner having won the 1999 Masters Over 40 NABBA Mr. Universe title and in 2003 won the NABBA Masters Over 50 Mr. Universe title.

Running time: 60 mins

* Available in NTSC DVD Only (Region Free)
* THIS DVD WILL PLAY ON ANY DUAL SYSTEM NTSC / PAL DVD PLAYER AND TV.