Details: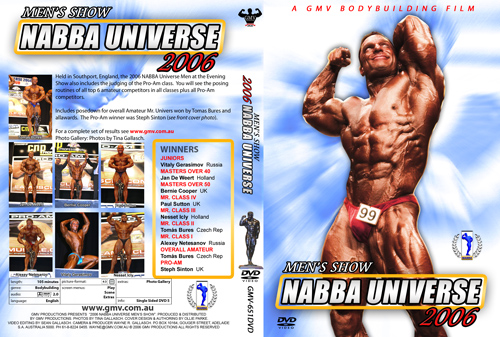 2006 NABBA UNIVERSE - MEN THE SHOW
Held in Southport, England, the 2006 NABBA Universe Men at the Evening Show also includes the judging of the Pro-Am class. You will see the posing routines of all top 6 amateur competitors in all classes plus all Pro-Am competitors. Includes posedown for overall Amateur Mr. Universe won by Tomas Bures plus all awards.
The Pro-Am winner was Steph Sinton. He has now won the treble of overall Amateur Mr. Universe and overall NABBA Mr. World.
Photo Gallery: Photos by Tina Gallasch.
Both DVDs Include a Photo Gallery:
MEN'S RESULTS:
Juniors
1 Vitaly Gerasimov Russia
2 Damian Cloete South Africa
3 Giovanni Azpeitia Mexico
4 Nathan de Asha UK
5 Graison Hom South Africa
6 Lucky Hatzipantelis Australia
Masters Over 40
1 Jan De Weert Holland
2 Dayo Audi UK
3 Hugh Ross USA
4 Grant King Australia
5 Aivars Visockis Latvia
6 David Steele UK
Masters Over 50
1 Bernie Cooper UK
2 Andrzej Brzezinski Poland
3 Tony Rizzo Australia
4 Graham Park UK
5 Earl Maduro Holland
6 Mauri Heikkinen Finland
MR. CLASS IV
1 Paul Sutton UK
2 Marilandio Pochet Brazil
3 Leonardo Flores Mexico
4 Jerry Koolhoven Holland
5 Daryl Aldis UK
6 Paul Lans Holland
MR. CLASS III
1 Nesset Icly Holland
2 Alexandre Nataf France
3 Phil Carlon UK
4 Fernando Almeida Brazil
5 Charles Duca Australia
6 Fabio Augusto dos Santos Brazil
MR. CLASS II
1 Tomás Bures Czech Rep
2 Alistair Smyth UK
3 Babak Moaeri Dubai, UAE
4 Bruno Matias France
5 Samuel Vieira Brazil
6 Darren Smith UK
MR. CLASS I
1 Alexey Netesanov Russia
2 Julio César de Freitas Brazil
3 Gino Barios Holland
4 Neven Corak Croatia
5 Radek Lonc Czech Rep
6 Elias Triantafilou Greece
PRO-AM
1 Steph Sinton UK
2 Tomás Bures Czech Rep
3 Peter Elvis Brown UK
4 Charles Mario Brazil
5 Joao Bispo De Andrade Brazil
6 Billy Bourne Rep of Ireland
OVERALL WINNER
Amateur Mr. Universe: Tomás Bures, Czech Rep.



Running Time: 105 mins

* Available in NTSC DVD Only (Region Free)
* THIS DVD WILL PLAY ON ANY DUAL SYSTEM NTSC / PAL DVD PLAYER AND TV. Or any PC DVD.