Details: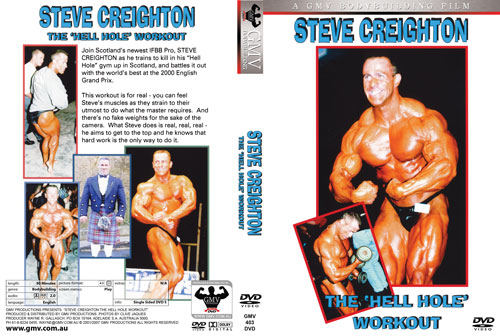 Steve Creighton: The "Hell Hole" Workout
Join Scotland's newest IFBB Pro, Steve Creighton as he trains to kill in his "Hell Hole" gym up in Scotland, and battles it out with the world's best at the 2000 English Grand Prix. This workout is for real – you can feel Steve's muscles as they strain to their utmost to do what the master requires. There are no fake weights for the cameras here; you see Steve's actual training weights. What Steve does to build his awesome physique is real! - real! – real!
He aims to get to the top and he knows that hard work is the only way to do it. Join him on his quest for muscle perfection.
"This is truly an addictive workout DVD! Great to watch when motivation is needed for your own training."



Running Time: 95 mins

* Available in NTSC DVD Only (Region Free)
* THIS DVD WILL PLAY ON ANY DUAL SYSTEM NTSC / PAL DVD PLAYER AND TV. Or any PC DVD.