Details: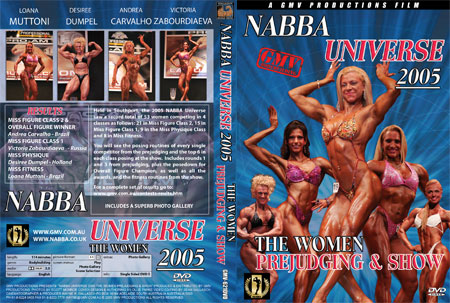 2005 NABBA Universe - The Women
Held in Southport, the 2005 NABBA Universe saw a record total of 53 women competing in 4 classes as follows: 21 in Miss Figure Class 2, 15 in Miss Figure Class 1, 9 in the Physique Class and 8 in Miss Fitness.

You will see the posing routines of every single competitor from the prejudging and the top 6 in each class posing at the show. Includes rounds 1 and 3 from prejudging, plus the posedown for Overall Figure Champion, as well as all the awards, and the fitness routines from the show.

The 4 class winners were:
Class 2 Figure and Overall Figure Winner: Andrea Carvalho
Class 1 Figure: Victoria Zabourdiaeva
(Check out the overall posedown in the below video clip)
Miss Physique: Desiree Dumpel
Miss Fitness: Loana Muttoni
INCLUDES A SUPERB PHOTO GALLERY.

Photos by Scott Monroe.



Running Time: 110 mins

* Available in NTSC DVD Only (Region Free)
* THIS DVD WILL PLAY ON ANY DUAL SYSTEM NTSC / PAL DVD PLAYER AND TV. Or any PC DVD.