Details: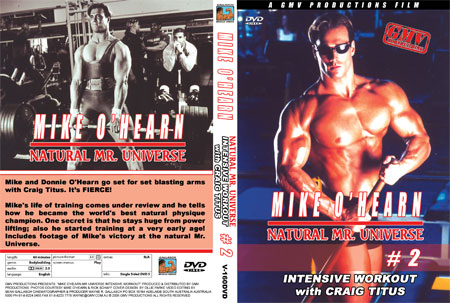 Mike O'Hearn Natural Mr. Universe Intensive Workout # 2 with Craig Titus: Working Arms
Mike and Donnie O'Hearn go set for set blasting arms with IFBB Pro and bad boy of bodybuilding Craig Titus. Witness the motivation and intensity present in the gym. With both free weights and machines used extensively, this feature is exciting and educational viewing. Mike's life of training comes under review and he tells how he became the world's best natural physique champion. One secret is that he stays huge from power lifting. He also started training at a very early age and this gave him a huge start! Includes footage of Mike's victory at the Natural Mr. Universe competition.
Producer's Note:
Mike O'Hearn had this workout filmed in LA and then sent us the camera tapes so that we could edit and produce this video, now available on DVD. This was shot several years ago with older technology and the DVD looks exactly as good as the original camera tapes. At times a slow shutter speed was used to create a special effect. This was not something that we could remove in the authoring process. The DVD is still most enjoyable and a unique record of guys who had little publicy on video at the time.



Running Time: 65 mins

* Available in NTSC DVD Only (Region Free)
* THIS DVD WILL PLAY ON ANY DUAL SYSTEM NTSC / PAL DVD PLAYER AND TV. Or any PC DVD.