Details: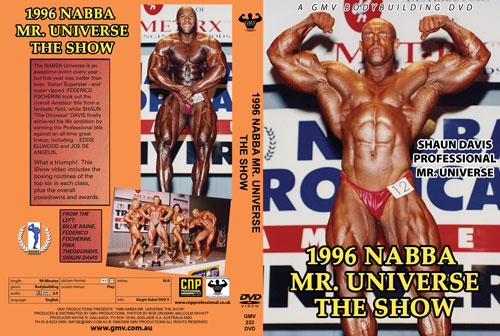 1996 NABBA Universe: The Men - The Show

Absolutely the world's best 'Over 40' physiques, this year won by Walter Engelskircher of Germany, with Jim Connor of UK 2nd and that genetic marvel John Citrone also of UK third. Walter was huge and muscular, in unbelievable and unbeatable condition.

The Men's Amateur Classes were - in a word - fantastic. You'll see for yourself, but it wouldn't have been easy to be a judge!
Men's Class 4 was overwhelmed by Jason Corrick of the UK, with Australia's Quinn Lay in second.
Men's Class 3 was Bill Jones from that all-time favourite poser Ramsford Smith.
Men's Class 2 was Serge Dessel of France (who also won the 1996 NABBA Worlds), and
Men's Class 1 was a whopping battle between first, second and third. Federico Focherini from Italy eventually won the class, with Russian Sergei Ogorodnikov in second and a disappointed Dayo Audi in third. Only a point separated second and third, it was that close!!
Overall Amateur Mr Universe went to Federico Focherini. He was symmetrical, huge, ripped and hard as Carrara marble - the best condition of any competitor in the Universe.

The Men's Professional Class was the biggest we have seen for some time with 12 competitors. At last "The Dinosaur" - Shaun Davis's dream came true - he won first place from Dennis James of USA, and another Yank, popular Joe De Angelis in third. Fourth went to a very unlucky Eddie Ellwood, and fifth to Terry Fisher. Dennis James went on to become a top IFBB Pro and has competed in the Mr Olympia many times.
Click here for all the details on THE MEN'S PREJUDGING from this contest, PCB-232DVD.
Click here for all the details on THE WOMEN'S DVD from this contest, PCB-234DVD.

1996 NABBA Mr Universe Results:
Overall Amateur Mr Universe: Federico Focherini Italy
Professional Mr Universe: Shaun Davis UK

Tall Class 1
1 Federico Focherini Italy
2 Sergei Ogorodnikov Russia
3 Dayo Audi UK
4 Kin Mitchell Holland
5 Patrick Cuel France
6 Eddie Abbew UK
7 Eli Hanna Israel
8 Lee Apperson USA
NP
Ian Wilkie UK
Eric Hartley UK
Randy Vogelzang Holland
Willem Moens Holland
Juan Jose Albalat Spain
Steve Johnson UK
Robert Abela Malta
Bart van der Molen Holland
Hannes Engelschall Austria
Raphael Rueveni Israel
Ronald van Kleef Holland
Mark Windle UK

Medium-Tall Class 2
1 Serge Dessel France
2 Eric Tilman Holland
3 Rob Van Der Dussen Holland
4 Vincent Wedderburn UK
5 Giorgio Magi Italy
6 Gary Bennett South Africa
7 Heinz Dickgieber Germany
8 Michael O'Hanlon UK
NP
Kobi Dikori Israel
Rob Colacino USA
Wayne Hainton South Africa
Gilbert Alaskadi Chad
David Du Buisson South Africa
John Verstege Holland
Jesus Barrero Spain
Nove Hadzistajanov Macedonia
Dominic Scheda Malta
Pierre Mifsud Malta

Medium Class 3
1 Billy Jones UK
2 Ramsford Smith UK
3 Steve Creighton UK
4 Derrick Clarke UK
5 Graham Black UK
6 Brad McLennan Australia
7 Rui Mu Australia
8 Ken Clarke UK
NP
Vytautas Kindurys Lithuania
Derek Saunders UK
Aivars Visockis Latvia
Manuel Segundo Castellaro Spain
Gary Stafford UK
Pierre Perrier France
Peco Kotauski Macedonia

Short Class 4
1 Jason Corrick UK
2 Quinn Lay Australia
3 Frank Vassil USA
4 William Howard UK
5 Mark Turvey UK
6 Wayne Clare UK
7 Marlon Mijnals Holland
8 Peter Roche UK
NP
Michael Monis USA
Victor Alley South Africa
Garry Scales UK
Perry Hakkens Holland
Vidas Janonis Lithuania
Michael Feuchter Germany
Barry Lockwood UK
Edmunds Davids South Africa

Masters
1 Walter Engelskircher Germany
2 Jim Connor UK
3 John Citrone UK
4 Don Mahoney Australia
5 Uli Caspary Germany
6 Jim Boulton UK
7 Peter Stewart Australia
8 Dimitri Zolin Russia
NP
Franco Fumo Italy
James Wallace USA
Eddie Parker UK
Rudy D'Hooge Belgium
Patrick Collard UK
Anatolij Kazus Latvia
Ray Stacey UK
John Brooks New Zealand
Jan Brink Holland
Al Zabiela UK
Willi Bendel Germany
Stuart Sharpe UK
Manfred Schmitz-Kania Germany
1996 NABBA Professional Universe
1 Shaun Davis UK
2 Dennis James USA
3 Joe DeAngelis USA
4 Eddie Ellwood UK
5 Terry Fisher UK
6 Marco Falcone Italy
7 Linval Miller UK
8 Christian Placide France
NP
Vince Brown UK
Raffaele Brancati Italy
Mario Novarro Vera Spain
Reimund Toselini Germany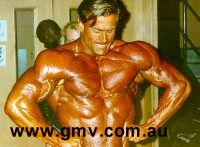 Lee Apperson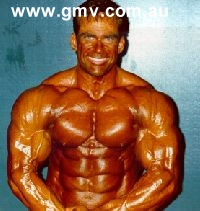 Joe De Angelis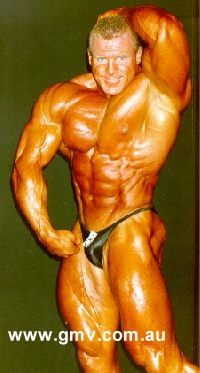 Eddie Ellwood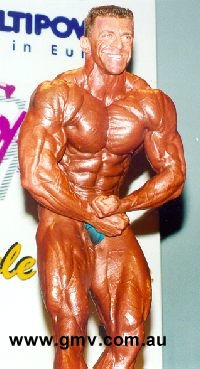 Federico Focherini
Sergei Ogorodnikov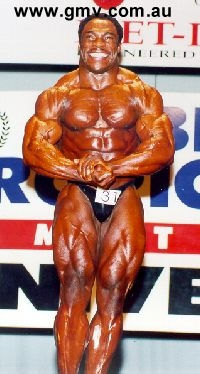 Ramsford Smith
Running time: 90 mins

* Available in NTSC DVD Only (Region Free)
* THIS DVD WILL PLAY ON ANY DUAL SYSTEM NTSC / PAL DVD PLAYER AND TV.