Details: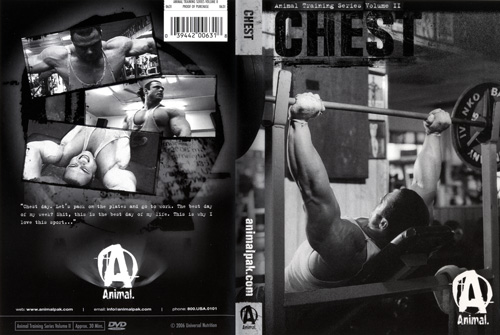 Frank McGrath - Animal Chest - Animal Training Series, Volume 2

Motivation! - Motivation! - Motivation! - This is the DVD for you!!!

"Chest day. Let's pack on the plates and go to work. The best day of my week? Shit this is the best day of my life. This is why I love this sport..."
Frank McGrath aka Wrath
Volume 2 of the Animal Training Series follows Wrath (Frank McGrath) as he tears through a draining chest routine. Pack on the hardcore weight and prepare for the pain.

This is what Animal is all about. Inclines, flat bench, flyes and crossovers, Wrath does 'em all. Motivating, educational and hardcore down to the last frame of celluloid, "Chest" follows the footsteps of its "Arms" predecessor and sets itself apart from every other bodybuilding training video ever made.

Since there is so little footage of Canadian Pro FRANK McGRATH showing him working out, either on the web or in any other DVD, this DVD will be in great demand with his many fans. Moreover, the stills of Frank in the DVD should add to the popularity of the DVD as an added bonus feature. You can also see Frank as he competed in the Prejudging only of the 2007 Iron Man Pro which is PCB-203DVD.



Running Time: 35 mins

* Available in NTSC DVD Only (Region Free)
* THIS DVD WILL PLAY ON ANY DUAL SYSTEM NTSC / PAL DVD PLAYER AND TV. Or any PC DVD.