Details: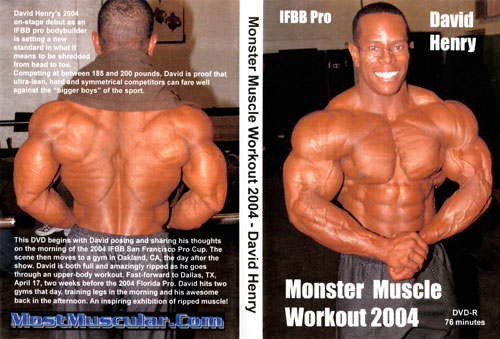 David Henry - Monster Muscle Workout

IFBB pro bodybuilder David Henry takes you through an awesome workout just two days after his impressive middleweight win at the 2002 NPC Nationals. You'll also see David moving some massive weight during his off-season training. There's also some hot posing footage included as well.
David Henry's 2004 on-stage debut as an IFBB pro bodybuilder is setting a new standard in what it means to be shredded from head to toe. Competing at between 185 and 200 pounds, David is proof that ultra-lean, hard and symmetrical competitors can fare well against the "bigger boy" of the sport.
This DVD begins with David posing and sharing his thoughts on the morning of the 2004 IFBB San Francisco pro cup. The scene then moves to a gym in Oakland, CA, the day after the show. David is both full and amazingly ripped as he goes through an upper-body workout. Fast forward to Dallas, TX, April 17, two weeks before the 2004 Florida Pro. David hits two gyms that day, training legs in the morning and his awesome back in the afternoon. An inspiring exhibition of ripped muscle!!



Running Time: 95 mins

* Available in NTSC DVD Only (Region Free)
* THIS DVD WILL PLAY ON ANY DUAL SYSTEM NTSC / PAL DVD PLAYER AND TV. Or any PC DVD.