Details: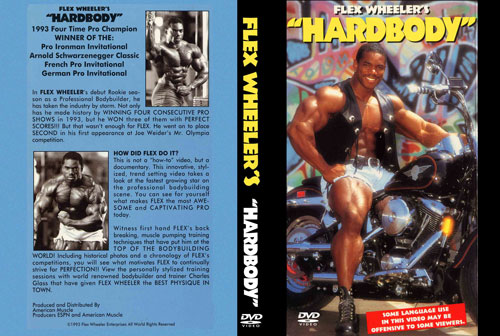 Flex Wheeler - Hardbody

In Flex Wheeler's debut rookie season as a professional bodybuilder, he has taken the industry by storm. Not only has he made history by winning four consecutive pro shows in 1993, but he won three of them with perfect scores! But that wasn't enough for FLEX. He went on to place second in his first appearance at Joe Weider's Mr. Olympia competition.
How Did Flex Do It?
This is not a "how-to" video, but a documentary. This innovative, stylized, trend-setting video takes a look at the fastest growing star on the professional bodybuilding scene. You can see for yourself what makes FLEX the most awesome and captivating pro today.
Witness first hand FLEX's back breaking, muscle pumping training techniques that have put him at the top of the bodybuilding world! Including historical photos and a chronology of FLEX's competitions, you will see what motivates FLEX to continually strive for perfection! View the personally stylized training sessions with world renowned bodybuilder and trainer Charles Glass that have given Flex Wheeler the best physique in town.

Running Time: 65 mins

* Available in NTSC DVD Only (Region Free)
* THIS DVD WILL PLAY ON ANY DUAL SYSTEM NTSC / PAL DVD PLAYER AND TV. Or any PC DVD.