Details: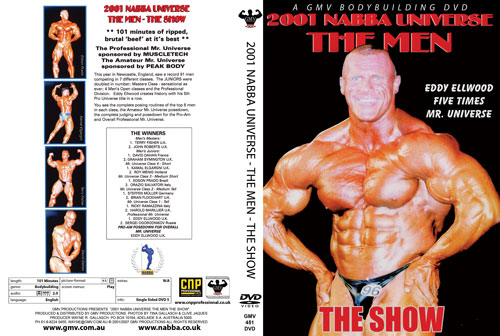 2001 NABBA Mr. Universe: The Men - The Show

** 101 minutes of ripped, brutal 'beef' at it's best **

This year in Newcastle, England, saw a record 91 men competing in 7 different classes. The JUNIORS were doubled in number; Masters Class - sensational as ever; 4 Men's Open classes and the Professional Division. Eddy Ellwood creates history in 2001 with his 5th Pro Universe title in a row.

You see the complete posing routines of the top 6 men in each class, the Amateur Mr. Universe posedown, the complete judging and posedown for the Pro-Am and Overall Professional Mr. Universe.

The highlight was definitely Eddy Ellwood's historic historic 5th consecutive Pro Universe victory. Steffen Müller of Germany was a worthy winner of the amateur overall Mr Universe crown.
2001 NABBA UNIVERSE COMPLETE MEN'S RESULTS:
JUNIORS
1 David Dahan France
2 Graham Symington UK
3 Robert Terry UK
4 John Elesen Holland
MASTERS
1 Terry Fisher UK
2 John Roberts UK
3 Dimitri Zolin Russia
4 Max Pangerl Austria
5 Gerhard Grossauer Austria
6 Kym Johncock Australia
7 John Lee UK
8 Ralph Heuchkerot Germany
Claudio Martinez Argentina
Denny Hoyle UK
Grant McDonald South Africa
Baz Bardsley UK
Patrick De Weist Belgium
Bob Hills UK
Vjacheslav Ljakin Russia
Boy Bax Holland
Corrie Bufton South Africa
Earl Maduro Holland
Paul Bell UK

MR. UNIVERSE CLASS 4
1 Kamal Elgargni UK
2 Roy Menig Holland
3 Dennis Giusto Italy
4 Paul Sutton UK
5 Paul Lans Holland
6 Nick Jones Australia
7 Frank Freis Germany
8 Pietro Roccia
Gilberto Feitosa Brazil
David Griffith UK
Richard Webb UK
Marsel Siraev Russia
Marlon Mijnals Holland
Vlasis Bagiatis Greece
Gary Scales UK
MR. UNIVERSE CLASS 3
1 Edson Prado Brazil
2 Salvatori Orazio Italy
3 Manoel Machado Spain
4 Dirk Weber Germany
5 Hassan Al Saka Syria
6 Laroque Djalma Brazil
7 Billy Jones UK
8 Ronny Rockel Germany
Kenneth Clarke UK
Pavlo Popovych Ukraine
Roy Pattison UK
Anselmo Moura Brazil
John Armstrong UK
Lubos Obornik South Africa
Jorg Fuchs Germany
Harold Pennie UK
Stephen Sinton UK
Claudio Galea Malta
MR. UNIVERSE CLASS 2
1 Steffen Müller Germany
2 Brian Flockhart UK
3 Thomas Balinge Holland
4 Erik Tilman Holland
5 Joao Andrade Brazil
6 Derek Rutherford UK
7 Dominic Schieda Malta
8 John Verstegen Holland
Keith Long Australia
Alexander Baldin Russia
Mike Rodd South Africa
Adam Ashley UK
Vasil Netsko Ukraine
Jurgen Schirmer Germany
Bruno Matias France
Robert Sabatini Canada
MR. UNIVERSE CLASS 1
1 Ricky Ramazzina Italy
2 Harold Marillier UK
3 Dean McTernan UK
4 Mario Hemmer Austria
5 Chris Wall UK
6 Andre Van Der Mescht South Africa
7 Chris Bennett USA
8 Dean Reay UK
Vasilis Zachilas Greece
Chris Sneddon UK
Paul Hildreth UK
Thierry Bidault France
OVERALL AMATEUR MR. UNIVERSE: STEFFEN MÜLLER - Germany
PROFESSIONAL MR. UNIVERSE
1 Eddy Ellwood UK
2 Sergei Ogorodnikov Russia
3 Giovanny Thompson Holland
4 Fred Boojaklee USA
5 Gary Guinn USA
6 Claudio Lombardi Italy

Running time: 101 mins

* Available in NTSC DVD Only (Region Free)
* THIS DVD WILL PLAY ON ANY DUAL SYSTEM NTSC / PAL DVD PLAYER AND TV.