Details: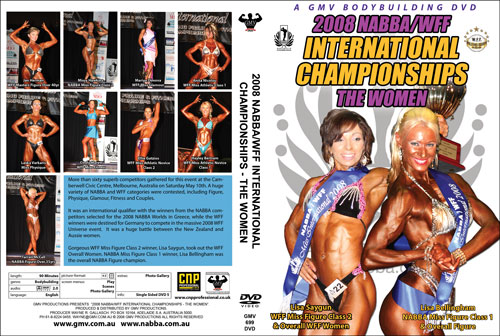 2008 NABBA-WFF International Contest - The Women

More than sixty superb competitors gathered for this event at the Camberwell Civic Centre, Melbourne, Australia on Saturday May 10th. A huge variety of NABBA and WFF categories were contested, including Figure, Physique, Glamour, Fitness and Couples.
It was an international qualifier with the winners from the NABBA competitors selected for the 2008 NABBA Worlds in Greece, while the WFF winners were destined for Germany to compete in the massive 2008 WFF Universe event. It was a huge battle between the New Zealand and Aussie women.
This DVD includes every moment of every round through to the final awards.
Gorgeous WFF Miss Figure Class 2 winner, Lisa Saygun, took out the WFF Overall Women's title.

NABBA Miss Figure Class 1 winner, Lisa Bellingham was the overall NABBA Figure champion.
Includes Photo Gallery.
Complete Women's Results:
2008 NABBA/WFF MS INTERNATIONAL CHAMPIONSHIPS:
All competitors were from Australia unless otherwise stated.
WOMEN'S CLASSES:
NABBA Figure Over 35yrs
1 Tarren McCall New Zealand
2 Mindy Dyson
WFF Masters Figure Over 40yrs
1 Jan Herdman
2 Nikki Vriends
3 Louise Ramsdell
WFF Miss Fitness
1 Cindy Marett

WFF Miss Glamour
1 Mariya Dimova
WFF Miss Athletic Novice Class 2
1 Ellie Gatzios
2 Veronica Mladenoska
WFF Miss Figure Class 2
1 Lisa Saygun
2 Katie Farrell
WFF Miss Athletic Class 1
1 Anita Nicolou
2 Annie Guillet
3 Colleen Leung
WFF Miss Athletic Novice Class 1
1 Hayley Bertram
2 Georgina Theophilos
3 Christina Dardalis
NABBA Miss Figure Class 1
1 Lisa Bellingham New Zealand
2 Emily Cowan
NABBA Miss Figure Class 2
1 Missy Hawkins New Zealand
2 Sharon Ricardo
Miss Physique
1 Laska Varkaris
2 Cat Davies
WFF OVERALL WOMEN
Lisa Saygun
NABBA OVERALL FIGURE
Lisa Bellingham New Zealand
SONNY SCHMIDT MEMORIAL TROPHY
Missy Hawkins New Zealand

Running time: 90 mins

* Available in NTSC DVD Only (Region Free)
* THIS DVD WILL PLAY ON ANY DUAL SYSTEM NTSC / PAL DVD PLAYER AND TV.