Details: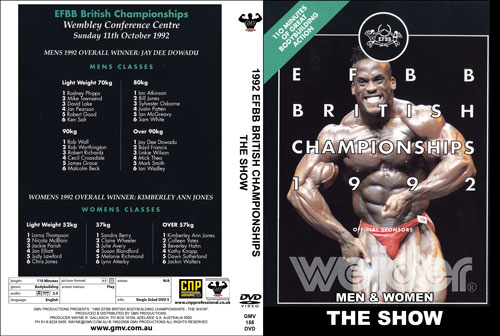 1992 EFBB British Championships: The Show
Each year the EFBB British Championships determines which two bodybuilders will join the professional ranks. Tensions run very high indeed! 1992 was no exception with one of the most controversial decisions ever - judging by the "boos" when each place was called out in Heavyweight Class (Over 90kg).

When it got to fourth place we witnessed one of the most disgraceful exhibitions of bad sportsmanship we have ever seen, when MICK THEO, not content with his fourth place, walked over to the girl holding the enormous first place trophy, grabbed it off her and hurled it to the floor! We read that he was suspended for two years.
First place getter, and new Professional, JAY DEE DOWADU (see front cover photo) was outstanding, and fully deserved his brilliant win! When J.D. was announced winner of his class, the stage was over run with his supporters, with as many as 30 fans swamping the triumphant (but bewildered) bodybuilder. However, he didn't have it all his own way in the Overall posedown, as he was pushed to the limit by NABBA Universe and Mr. World Class winner, ROBERT WALL.

JD Dawodu went on to have quite a successful pro career. He was always noted for his magificent arms. (See PCB-154DVD The Prejudging)

Also features:
Kimberley-Anne Jones (1st - women)
Basil Francis (2nd - men)
Lorna Thompson
Ian Atkinson
Rodney Phipps
Sandra Berry
With guest posers:
Kevin Levrone, and Eddy Ellwood

Running time: 110 mins

* Available in NTSC DVD Only (Region Free)
* THIS DVD WILL PLAY ON ANY DUAL SYSTEM NTSC / PAL DVD PLAYER AND TV.