Details: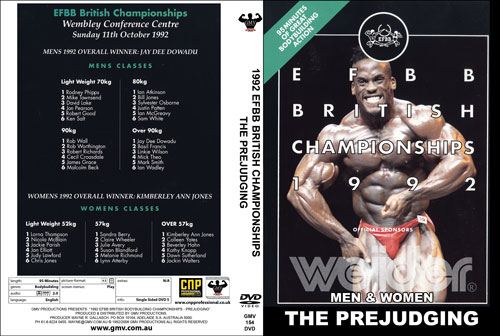 1992 EFBB British Championships: Prejudging Men & Women

In the lead-up to the 1992 EFBB British Championships, who could have foretold the controversy that would follow? (See PCB-155DVD The Show) In this, the Pre-judging, we feature some of the most incredible physiques to ever grace the stage - and JAY DEE DOWADU, at 5'7" and 220lbs of shredded beef, is Britain's best new Pro in years!

This contest prejudging video contains all of the highlights, men and women from the Wembley Arena, London.

Basil Francis and Ian Wadley both later went on to win this event.

The Overall Men's Winner this year was JD DAWODU.
Also features:
Kimberley-Anne Jones (1st - women)
Mark Smith
Basil Francis (2nd)
Ian Wadley
Mick Theo (4th)
Robert Wall
Lorna Thompson
Ian Atkinson
Rodney Phipps
Sandra Berry

Running time: 95 mins

* Available in NTSC DVD Only (Region Free)
* THIS DVD WILL PLAY ON ANY DUAL SYSTEM NTSC / PAL DVD PLAYER AND TV.