Details: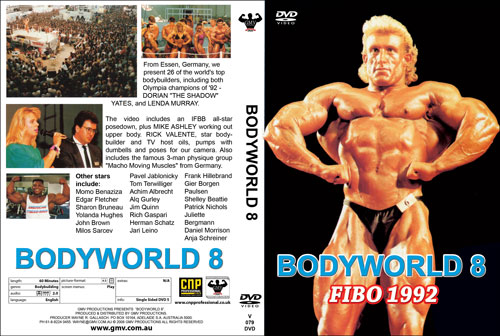 BODYWORLD #8 - FIBO'92
This latest extravaganza of magnificent muscle showcases FIBO '92 - LIVE!
From Essen, Germany, we present 26 of the world's top bodybuilders, including both Olympia champions of '92 - DORIAN "THE SHADOW" YATES, and LENDA MURRAY.

The video includes an IFBB all-star posedown, plus MIKE ASHLEY working out upper body. RICK VALENTE, star bodybuilder and TV host oils, pumps with dumbells and poses for our camera. Also includes the famous 3-man physique group "Macho Moving Muscles" from Germany.

Other stars include:

Momo Benaziza
Edgar Fletcher
Sharon Bruneau
Yolanda Hughes
John Brown
Milos Sarcev
Pavel Jablonicky
Tom Terwilliger
Achim Albrecht
Alq Gurley
Jim Quinn
Rich Gaspari
Herman Schatz
Jari Leino
Frank Hillebrand
Gier Borgen Paulsen
Shelley Beattie
Patrick Nichols
Juliette Bergmann
Daniel Morrison
Anja Schreiner

Running time: 60 mins

* Available in NTSC DVD Only (Region Free)
* THIS DVD WILL PLAY ON ANY DUAL SYSTEM NTSC / PAL DVD PLAYER AND TV.