Details: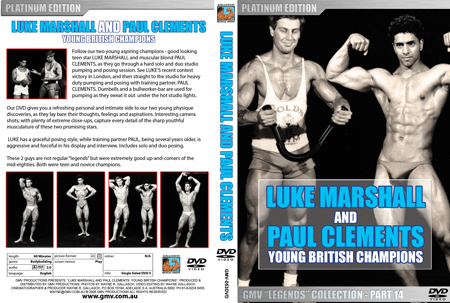 Marshall & Clements – Young British Champions

Follow our two young aspiring champions - good looking teen star LUKE MARSHALL and muscular blond PAUL CLEMENTS, as they go through a hard solo and duo studio pumping and posing session.
See LUKE'S recent contest victory in London, and then straight to the studio for heavy duty pumping and posing with training partner, PAUL CLEMENTS. Dumbells and a bullworker-bar are used for pumping as they sweat it out under the hot studio lights.
Our DVD gives you a refreshing personal and intimate side to our two young physique discoveries, as they lay bare their thoughts, feelings and aspirations. Interesting camera shots, with plenty of extreme close-ups, capture every detail of the sharp youthful musculature of these two promising stars.
LUKE has a graceful posing style, while training partner PAUL, being several years older, is aggressive and forceful in his display and interview. Includes solo and duo posing.
These 2 guys are not regular "legends" but were extremely good up-and-comers of the mid-eighties. Both were teen and novice champions.
Photos by Wayne Gallasch

Running time: 60 mins

* Available in NTSC DVD Only (Region Free)
* THIS DVD WILL PLAY ON ANY DUAL SYSTEM NTSC / PAL DVD PLAYER AND TV.