Details: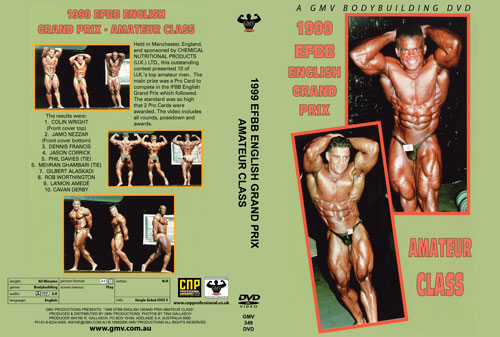 1999 EFBB English Grand Prix Amateur Class
Held in Manchester, England, and sponsored by Chemical Nutritional Products (U.K.) Ltd., this outstanding contest presented 10 of the U.K.'s top amateur men, the main prize was a Pro Card to compete in the IFBB English Grand Prix which followed.

The standard was so high that 2 Pro Cards were finally awarded. The video includes the complete contest, all rounds, posedown and awards.
Both Pro Card winners went on to compete in the Pro Grand Prix that immediately followed.

For the details on the Pro Show DVD, please click here for PCB-347DVD.
For the details on the Pump Room DVD from this event, click here for PCB-348DVD.

The winners were in this order:

Colin Wright (IFBB Pro Card)
Jamo Nezzar (IFBB Pro Card)
Dennis Francis
Jason Corrick
Phil Davies (tie)
Mehran Ghambari (tie)
Gilbert Alaskadi
Rob Worthington
La'mon Amadè
Cavan Derby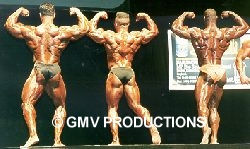 Lineup 1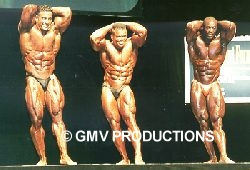 Lineup 2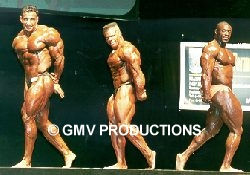 Lineup 3
KERRY KAYES, IFBB PROS JOHN HODGSON & JAMO NEZZAR as Jamo oils up for his Pro debut, 1999 English GP.
Running time: 60 mins
* Available in NTSC DVD Only (Region Free

)
* THIS DVD WILL PLAY ON ANY DUAL SYSTEM NTSC / PAL DVD PLAYER AND TV.